Exclusive
Busted: Miley Cyrus Is Using A Teleprompter During Raunchy Performances On Bangerz Tour To Remind Her Of Her Own Lyrics!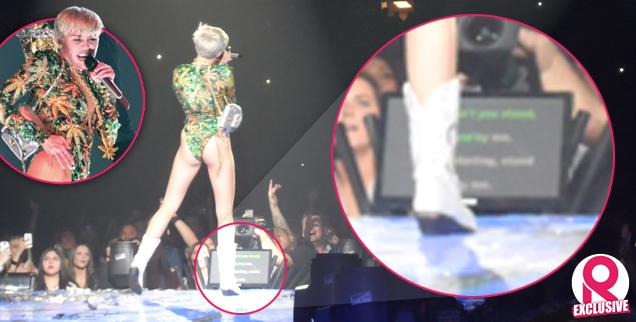 Article continues below advertisement
"I was at Miley's Vegas concert and took these pictures because I couldn't believe she needed a teleprompter with lyrics to all of her songs throughout the entire concert," one concertgoer told Radar.
"And it's not like they were just there for nothing — I caught her looking at them more than a few times!"
Cyrus, who has smoked marijuana on stage during one of her shows and has bragged about her love for drugs like weed and 'molly', might want to focus more on remembering they lyrics to her songs and keeping the focus on her voice.
"The show was entertaining, but she didn't sound great," the source said.