Oh, Baby! Miami Cops Release Justin Bieber Tattoo & Muscle Photos From Inside Jail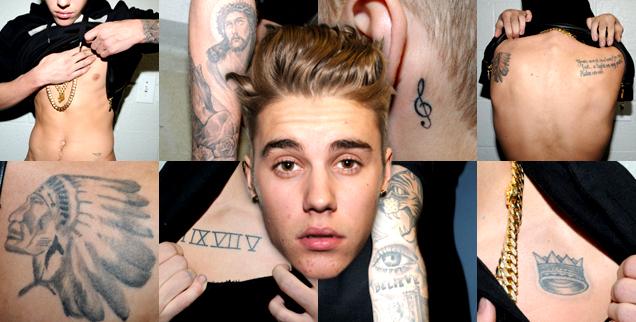 Miami Beach police have released 18 revealing pictures of pop brat Justin Bieber during his January 23 arrest for driving under the influence — and RadarOnline.com has all the images!
The pictures, released Tuesday, were taken inside the Miami Beach police department as the 20-year-old "Baby" singer was being booked.
They show every tattoo on the inmate's body, including a bible quote from Psalm 119:105 that reads: "Your word is a lamp for my feet, a light on my path."
Article continues below advertisement
There's also ink of praying hands on his left leg and a tattoo of Jesus.
As RadarOnline.com previously reported, Bieber was described as "excited, talkative, profane, cooperative, insulting and cocky" by cops in their police report during the headline-grabbing arrest.
We also obtained video footage of the Canadian pop star performing his sobriety tests.
Bieber was shown in baggy black shorts, a baggy black hoody over his head and orange sneakers walking back and forth along a white taped line on the floor while several police officers watch over him.
MORE ON:
Celebrity Justice
He stumbled a bit during his first run at it and as he turns around he loses his balance a bit and nearly falls over.
Bieber continued with about two more successful runs, but looks bored and frustrated by the end.
After turning down a plea deal offered by prosecutors, law enforcement is said to be hoping the surveillance video will strengthen their case that Bieber was under the influence at the time of his arrest.