Exclusive
Oksana Grigorieva Fears She Will End Up Homeless, Broke If Mel Gibson Takes Her To Court!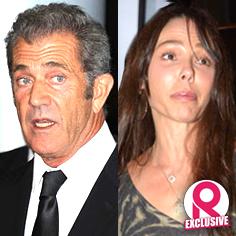 Oksana Grigorieva fears that if the father of her four-year-old daughter, Mel Gibson, takes her back to court in an effort prize custody of tiny tot Lucia, she will end up homeless and broke, RadarOnline.com has been told.
We broke the story: The former girlfriend of Gibson, 58, may be facing a renewed battle, as he considers going to family law court in Los Angeles in an attempt to get more custody of Lucia, following an incident involving law enforcement and Oksana Grigorieva's eldest son with ex-007 Timothy Dalton.
Article continues below advertisement
A source revealed: "Oksana lives in a house that is owned by Mel and she will be allowed to live there with their daughter, Lucia, until she turns 18.
"But, if Oksana was to lose custody of Lucia, she would be forced out of the house! She also depends on the $20,000 in monthly child support that Mel pays her. She is scared to death that Mel is going to take her back to court and could end up with nothing."
RadarOnline.com has chosen not to disclose the allegations or details of the police investigation as Alexander Dalton, 17, is a juvenile. However, Alexander has retained lawyer, Shepard Kopp, to represent him.
It's another setback for the Russian beauty, who recently filed for bankruptcy.
In documents obtained by RadarOnline.com, Grigorieva, 43, claimed to have $48,676 in personal property, but a whopping $438,179 in debt; she said she only had $10 in cash to her name — but had assets including a $5,000 piano from her fleeting music career.
Article continues below advertisement
She also receives $2,500 per month from ex-Bond star Dalton, 70.
Grigorieva turned down a massive settlement from Gibson in 2010, as much as $15 million, stemming from our explosive 2010 reports with exclusive audio of the Lethal Weapon star threatening to kill her and even punching her in the face.
Complicating matters for pianist-singer, she currently doesn't have family law attorney's to represent her if Gibson chooses to hail her back into court.
MEL AUDIO TAPE #1: Mel's Racist Rant
"Oksana burned through many lawyers in the initial custody battle and still owes several high profile law firms thousands of dollars. Mel would most likely be ordered to pay her legal fees, but what attorney would agree to represent her given the past history? This is turning into a huge nightmare for Oksana."
Added the source, "She has no other source of income apart from the child support received from Mel and Timothy."