Monster-In-Law! Kris Jenner Confesses SHE Planned Kanye West's Proposal To Kim Kardashian In Shocking New Court Documents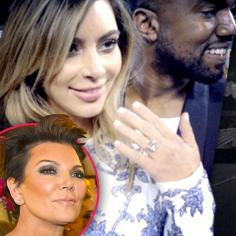 With an orchestra, fireworks, and friends and family looking on, Kanye West's proposal to Kim Kardashian one for the ages. But it wasn't all his idea! In shocking new court documents obtained by RadarOnline.com, Kardashian's mother Kris Jenner admits that she was very hands-on in the planning of her daughter and West's special day. Forget the groomzilla -- here comes the monster-in-law!
Jenner made the bombshell confession in a declaration for Kardashian and West's ongoing lawsuit against YouTube co-founder Chad Hurley, who, they claim, illegally leaked a video of the proposal.
Article continues below advertisement
"The rights to broadcast the event were sold on an exclusive basis," Kardashian insisted in her declaration to the court. "Such rights (including future rights) are (and will be) of diminished value if others preempt the official, contractually authorized broadcast or other publication rights that Kanye West or I own with their own, earlier unauthorized publication or broadcast."
As RadarOnline.com has reported, Kardashian and West claim Hurley did just that when he shot a behind-the-scenes video of West's lavish proposal to Kardashian on her 33rd birthday -- Oct. 21 last year -- at San Francisco's AT&T Park. The marriage proposal later aired on an episode of Keeping Up With The Kardashians.
Article continues below advertisement
The damage was immediate, Kardashian said.
They Really Did Say It! 50 Outrageous Kardashian Quotes
'There were certainly tweets and other written messages about the event and a small number of snapshot photos and other brief images appeared, but there were no photos of the marriage proposal itself," the reality television star said.
"Importantly, there were certainly no videos of the marriage proposal that were publicly broadcast at the time that Mr. Hurley posted his video footage."
Article continues below advertisement
Worst of all, they allege, Hurley wasn't even invited!
Jenner claimed in her declaration that the tech impresario "did show up with someone else who was an invited guest, bur Mr. Hurley was not invited by the organizers of the event. He was not even invited to attend; Kim and Kanye did not know him. We would not have been upset in the least if he had to leave -- or never even attended in the first place -- and he had not earned the trust of Kim, Kanye, or me."
A hearing has been set for March 18, to determine if the lawsuit will proceed to trial.
Stay tuned to RadarOnline.com for the latest updates!