Exclusive
Are The Rumors True? Keith Urban Kissed Me, Reveals Male Radio DJ -- PLUS Which Country Stars Are In The Closet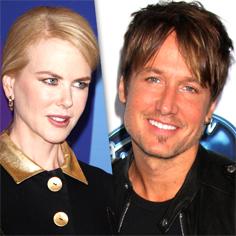 In Nashville, there's more in the closet than just cowboy boots and rhinestones. "Everyone's gay!" country music personality Gerry House writes in his new tell-all Country Music Broke My Brain. In fact, he claims, "I once kissed Keith Urban!"
When the duo -- longtime friends -- swapped spit, House writes, it was "Just a peck on the lips. At the stroke of midnight on New Year's Eve. From what I recall, there was a substantial amount of wine reported missing the next morning."
Article continues below advertisement
"My wife was off in another room when the big midnight celebration moment arrives," he remembers. "I puckered up for the nearest person in order to honor Auld Lang Syne. It just turned out to be the guy who married Nicole Kidman."
House jokes, "I should tell you that former kiss partner Keith never writes. He never calls. He treats me like yesterday's newspaper. I have spent many nights standing in front of the fridge, eating ice cream out of the container with a scoop because of it."
For his part, Urban doesn't seem to mind their lip locking moment going public. He contributed a blurb for the cover that reads, ""Gerry I love you like a brother. I get the top bunk though!"
Urban made news earlier this year when he openly wept during the gay marriage ceremony that took place during Macklemore's Grammy performance of "Same Love."
After that, many fans on Twitter accused the star of being gay himself. But House insists Urban and Kidman are happily married, and even have a rule that they never spend more than three days apart.
Article continues below advertisement
Still, House claims, there are many others in Nashville hiding secret gay lives.
"I don't even know where to start when talking about the gay influence on country music," he writes. "…There is a surprisingly large family of gay (openly or not) men and women in Nashville."
One "well-known publicist" secretly swings for the other team, House hints, as well as "some of country's biggest stars."
He insists, "The truth is, I think hardly anyone on Music Row would punish you if you're gay. Hell, they might be gay!"
"I've only known one person to use gayness as a career crutch," he writes in a blistering paragraph about lesbian songstress Chely Wright.
"She was a slightly successful singer/songwriter," he writes, "who came out as a lesbian … and lair contended that her 'Career' had been ruined by the Music Row community when they learned she was gay."
"The unfortunate part of her argument," he writes, "is that her career never really got that big to begin with! Chely was not exactly Carrie Underwood at any point. Besides, it had been years since she'd had a hit or anyone had even thought of her."
For more from House's tell-all, stay tuned toRadarOnline.com!