She's BAACK! Kate Gosselin Doesn't Care What Jon Says, She's Returning To Reality TV With Their 8 Kids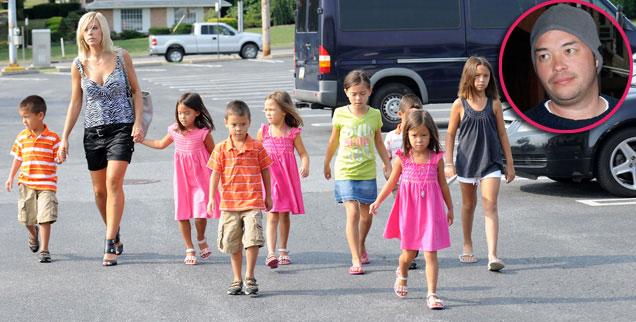 Article continues below advertisement
As RadarOnline.com previously reported, while Jon claims to want to keep his children off of the air (while he filmed a season of Couples Therapy) he signed over all of his rights to object in order to stop paying child support, and now Kate is putting the kids back on TV.
"It's now been over two years since we've last seen the Gosselin clan, and Kate and the kids are catching up with TLC for an hour-long special, slated to air in June," the network said in a statement on Tuesday.
Scorned Exes Tell All: Inside Hollywood's Ugliest Splits
"In 2007, viewers first fell in love with one of the most talked about families in reality television history. With the twins now 13, and the sextuplets about to turn 10, Cara, Mady, Alexis, Hannah, Aaden, Collin, Leah, and Joel join their mother in this update about their life as a family today."
Recently Kate came under fire when her daughter Cara froze on national television, turning a TODAY Show appearance into an awkward exchange for her mother, and Jon railed against what he called the exploitation.
Article continues below advertisement
However, the single mother, who was recently spotted by RadarOnline.com holding hands with her bodyguard Steve, is once again putting the entire brood on TV.
"Throughout the special, Kate and the kids get us up to speed on what's changed in the family - how the kids have grown, what their interests are now, and what the latest is on Kate's life and career," TLC revealed, with no mention of Jon in the statement.
"The hour will take a look back at some of the most memorable and poignant family moments from the past several years, and will highlight what the day-to-day routine has been for Kate and the kids since we last saw them."
Will you watch the Kate Plus 8 special? Tell us in comments.