Huge Setback For Church Of Scientology: Harassment Lawsuit Brought By Wife Of Tom Cruise's Former Auditor Allowed To Proceed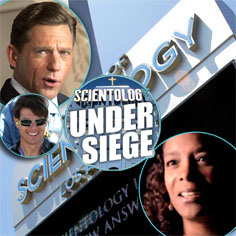 Article continues below advertisement
Monique was never a member of the Church and since leaving Scientology several years ago, her husband has been an outspoken critic of the religion.
Judge Dip Waldrip denied the Church of Scientology's ANTI-SLAAP motion, which would have resulted in the lawsuit ultimately dismissed.
The church argued that the lawsuit was infringing on their First Amendment right to free speech, but in a lengthy 25-page decision, the judge disagreed.
According to the decision, obtained by Radar: "The primary reason Church of Scientology International initiated the complained-of activity was to investigate alleged infringement of it's intellectual property rights by both Mark and Monique Rathbun allegedly occurring as early as January 29, 2009, if not before.
"No evidence indicates that either Defendants CSI or the Religious Technology Center has ever sent Mark Rathbun a cease and desist letter or sued Mark or Monique Rathbun for infringement of infringement of intellectual property rights or any other cause of action."
Article continues below advertisement
Furthermore, Monique was able to provide a legal foundation "sufficiently established by a preponderance of the evidence that she suffered stress, anxiety and fear that have resulted in severe headaches, including migraines with debilitating pain due to surveillance of investigators and Squirrel Busters - she further attested that as a result of these activities she suffered an extreme gagging nausea, and Plaintiff averred she developed a hyper-sensitivity to light and was unable to eat or concentrate due to headaches."
Interestingly, Monique met Marty in 2005 -- after he'd already left Scientology -- and the two began a new life together in Texas; still, she claims in the court documents that she was "intentionally targeted by OSA Office of Special Affairs merely because of her relationship with Mr. Rathbun."
"She has been subjected to numerous, aggressive attempts to intimidate her … she has been targeted at home, at work, and anywhere else that she happens to be," she said in her suit lawsuit. "She has been harassed, insulted, surveilled, photographed, videotaped, defamed, and humiliated to such a degree as to shock the conscience of any decent, law-abiding person."
Article continues below advertisement
"They have even alleged that I am not even a woman, but a man who has had a secret sex-change operation. So, I have even had my womanhood questioned as part of this sick campaign to inflict maximum emotional distress on me."
Monique's attorney, Ray Jeffrey, told The Underground Bunker that if the church would have just left his client and her husband alone, the lawsuit would have never came to fruition.
Article continues below advertisement
"They loved that house down there, but they had to leave," he said, referring to the move they made from Ingleside On The Bay in Texas to Comal County.
"And if the church had left them alone Monique wouldn't have sued."
But despite the move, Monique claims Scientology found them and set up camp next door. Jeffrey said an undeveloped piece of land adjacent to the Rathbun's was suddenly inhabited by a man who lived in an RV and claimed he was an author and writer.
"It was overgrown. It had no water, no electricity," the lawyer said. "The guy said he was bringing in an RV. But it's completely remote, not in a subdivision, there was no street address. It wasn't for sale and it wasn't for rent.
"The only way they got that property was by looking at a map to find out what was next to Marty's house. Some publishing company is not finding a property like that in Texas for one of its writers."
In closing, the judge failed to rule that the church's motions were "frivolous, but the Court does conclude that the method in which the motions were litigated, from the discovery to the objections, etc., resulted in hours upon hours of courtroom time that could have been better spent elsewhere."
The church was also ordered to pay Monique's legal fees for defending the ANTI-SLAAP motion.
Requests for comment from the church weren't immediately returned at time of publication.