'No Restrictions': Controversial Scientology Leader David Miscavige To Be Questioned In Harassment Lawsuit, As Lawyers Consider Calling His 'Missing' Wife For Deposition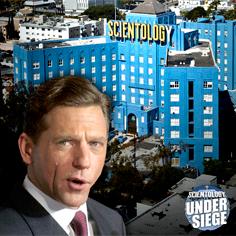 Article continues below advertisement
"He has ordered the deposition of Miscavige with no restrictions. It will be a regular deposition like any other," Jeffrey told the site.
At the end of Friday's session, Scientology attorneys asked to have an undisclosed amount of time to petition the deposition order, but Judge Waldrip gave them one week — giving them until Dec. 20 at 5 p.m.
In terms of scheduling Miscavige's deposition, Rathbun's attorneys have their work cut out for them.
According to the leader's schedule through March 31, 2014, he's booked.
"Judge Waldrip seemed unimpressed with it," Jeffrey told the Bunker. "There's no time that they're not going to claim that he's super busy."
Although attorneys for the controversial church argued that a deposition violated Miscavige's religious freedom, Jeffrey successfully argued that during recent scandals with the Catholic Church, bishops and archbishops had given depositions without it violating their religious freedom.
MORE ON:
Celebrity Justice
Article continues below advertisement
"The big mistake they made was leveling so many objections, and they actually gave the judge a format, a box for checking every objection sustained or overruled on the documents," Jeffrey said.
Jeffrey also blindsided the church's legal team by presenting an order to depose not only Miscavige, but his wife Shelly Miscavige — who made headlines in August when defected church member Leah Remini filed a missing persons report on her with the Los Angeles Police Department.
Miscavige has not been seen in public since late 2005 except for a brief appearance at the funeral of her father in the summer of 2007. The church has adamantly denied she's missing stating, "Mrs. Miscavige is a private person and her affairs are a private matter. She continues to work in the Church as she always has."
"They freaked out over that," Jeffrey said, noting he never formally submitted the request for approval but still can at any point in the future.
"The main thing is we get the time to do discovery. David Miscavige is still in this lawsuit, and has to give his deposition."
As RadarOnline.com previously reported, Monique alleges in the lawsuit that Miscavige and the church practically stalked her, harassing her and her husband over the course of the last four years in an attempt to make their lives a living hell.