Exclusive
Sheen Is Clean! Charlie Detoxing Off Booze Because His Sights Are Set On 'Anger Management' $$$yndication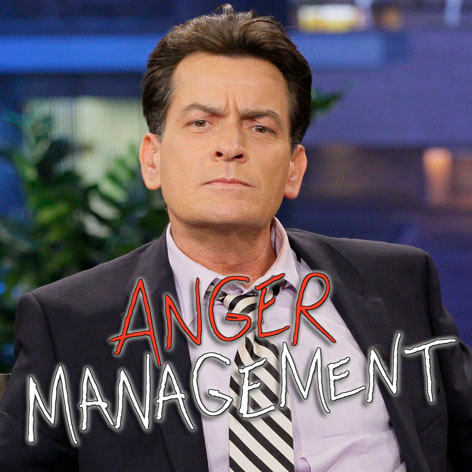 He's known as Teflon Charlie for a reason, but these days is cleaning up his act (for now, at least!) because he's focused on making sure his show Anger Management continues so the show gets put in syndication — which means big money for Sheen.
According to sources close to the actor, two seasons into the FX show puts Sheen less than 40 episodes away from Anger Management going into syndication and he's been made fully aware of the financial gain he would reap.
Article continues below advertisement
"It's all about dollar signs for Charlie. He knows that if he can keep himself together and keep Anger Management going strong, it will pay off big time," the insider told RadarOnline.com.
"So for the last two weeks he's completely stopped drinking and has been detoxing. He's taking it really seriously!"
The Hollywood Reporter claims Sheen's Anger Management co-stars had been angry with the actor in the past weeks when he failed to show for several days of work.
But Sheen's rep told the outlet, "We did not shoot last week because another member of the cast was sick. Charlie is always ready, willing and able to shoot Anger Management and looks forward to returning on Monday."
And it's situations like that that Sheen's new fiancée, Brett Rossi, has taken a hand in guiding him down the path of sobriety, the source tells RadarOnline.com.
"Brett is cleaning house in more ways than one," the insider revealed.
Article continues below advertisement
"She's been cracking down on the way Charlie frivolously spends his money and she's also keen to get him healthy. Charlie's not someone to usually be bossed around, but he's so head over heels for Brett and respects her and knows that she just has his best interests at heart."
Video & Photos: Brooke Mueller's Crack Binge — And $1500 Meth Drug Deal – Caught On Video
Sheen's newfound sobriety is a far cry from him partying ways in Cabo San Lucas, Mexico, over the Christmas and New Years holiday season while there with Rossi.
"Charlie is seen standing at the table… on the table are bottles of vodka, cigarettes strewn everywhere, a handful of Vicodins… He takes a few and chases it with vodka," a local tattoo artist summoned by Sheen at the time told RadarOnline.com.
"What's up f**gots?' he says as he notices us enter the room," the source dished. "We all meet Charlie and after he tells us about the tattoo he wants. We sit down to get started."
As RadarOnline.com previously reported, Rossi is hoping to get pregnant as soon as possible and wants a family with the 48-year-old star.
"Brett wants to start a family with Charlie immediately," the source told RadarOnline.com.
"She doesn't want to wait to have kids, and thinks Charlie will be an amazing father."
Another reason she might be pushing to get Sheen clean!