Exclusive
'It's Disgusting!' Camille Grammer Slams 'Hurtful' New Tell-All Revealing Dirty Details Of Kelsey Grammer's Affair -- Read An Excerpt!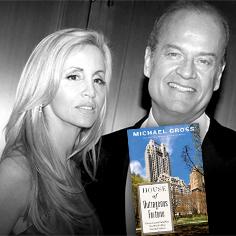 Real Housewives of Beverly Hills star Camille Grammer's world came crashing down two years ago, when she discovered her husband, Kelsey Grammer, had been cheating on her with stewardess Kayte Walsh.
Now, just weeks after finishing a grueling chemo treatment for endometrial cancer, she's being hit with heartache all over again thanks to new revelations about the sordid ordeal in a steamy tell-all, House of Outrageous Fortune, about the apartment building where she and Kelsey lived. Only RadarOnline.comhas all the details about the book's allegations, and Camille's hurt response.
Article continues below advertisement
"It's disgusting someone from the building would do that and make profits off of it," she tells RadarOnline.com exclusively. "It's not only hurtful for my family, but for the other residents, including Alex Rodriguez and Sting who appear in the book as well."
According to the author, Michael Gross, Camille found out about Kelsey's affair when she "called from California before she knew about his girlfriend," a renter at the tony Fifteen Central Park West high rise reveals. "They told her his wife was already in the building. She genuinely didn't know. Incidents followed."
The notorious apartment even played a small role on Real Housewives of Beverly Hills, when Camille was shown touring the 3,500 sq. ft. apartment.
"For us, it's small," she said at the time. "That seems pretty obnoxious, but I'm used to living in a substantial-sized house."
"Between the taping of that show and the time it aired, Camille Grammer filed for divorce …" the book notes. "Her husband immediately married a former flight attendant, Kayte Walsh, twenty-seven years his junior."
For more steamy revelations about the famous inhabitants of Fifteen Central Park West, stay tuned to RadarOnline.com!