It's Official! Kelsey Grammer and Kayte Walsh Are Married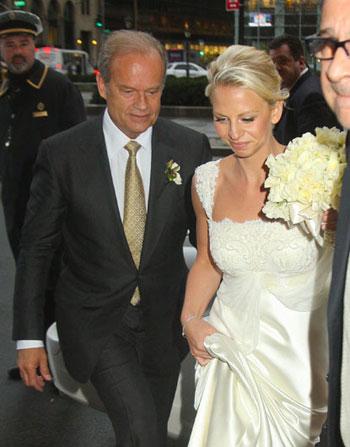 Kelsey Grammer and Kayte Walsh are officially husband and wife.
The actor's rep released a statement Friday: "Kelsey Grammer and Kayte Walsh were married today (Feb. 25) at a private ceremony for family and friends at the Longacre Theatre in New York."
The Longacre holds a special place in Kelsey's heart – he performed in the acclaimed La Cage Aux Folles on the Great White Way for a year, ending February 13, only this time the only lines he recited on stage were his vows.
Article continues below advertisement
Kelsey and Kayte were chauffeured to the locale separately this afternoon and were shielded by bodyguards and umbrellas from the flashing lights of the paparazzi and fans, who gathered outside the theatre to congratulate the happy couple.
Kelsey looked the part of a dashing groom in a traditional tuxedo, while Kayte looked like a glowing bride in perfect makeup and a white coat as she smiled from ear-to-ear.
Kelsey, 55, and Kayte, 29, who worked as a stewardess for Virgin Atlantic, met on a flight to New York, while Kelsey was still married to his third wife, Camille.
This is the fourth marriage for Kelsey and the first for Kayte, and it comes a mere two weeks after Kelsey's divorce from Camille was granted.
RELATED STORIES:
VIDEO: Camille Grammer 'Doing Really Well,' Says Beverly Hills Housewives Costar