'Such Good Body & Really, Really Good Legs': Rupert Murdoch's Ex-Wife Wendi Deng Gushed Over British PM Tony Blair In Love Note, New Exposé Claims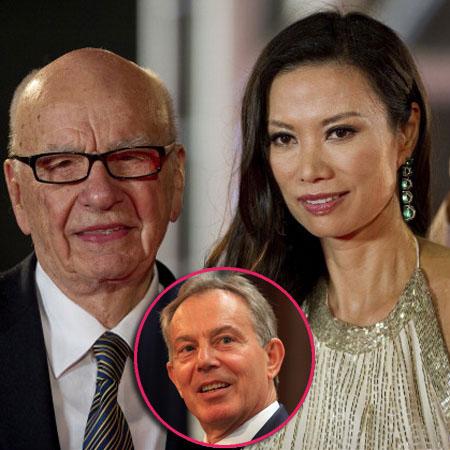 Charming and powerful, with a "good body" and "piercing blue eyes."
That's how Rupert Murdoch's ex-wife Wendi Deng described former British prime minister Tony Blair in a just-uncovered note published by Vanity Fair Wednesday, and we've got all the details for you right here on RadarOnline.com.
In a note presumably written by the 45-year-old beauty, who last year parted with the Aussie media magnate, after 14 years together, Deng wrote, "Oh, sh*t, oh, sh*t … whatever why I'm so so missing Tony. I'm so so missing Tony … because he is so so charming and his clothes are so good.
Article continues below advertisement
"He has such good body and he has really really good legs … butt ... and he is slim tall and good skin. Piercing blue eyes which I love. Love his eyes. Also I love his power on the stage ... and what else and what else and what else."
Insiders said that two separate rendezvous (in April 2013 and October 2012) Blair and Deng had at Murdoch's California cattle ranch without his knowledge. Murdoch, according to the report, thought that the Chinese stunner was hosting a get-together with her female friends.
Blair and Murdoch worked closely when Blair was labor leader, with Murdoch's publication The Sun strongly supporting the political leader over the course of four elections. The two are no longer on speaking terms, according to the report.
An insider explained the dynamics of to Vanity Fair, saying, "They were all mutual friends; there was no reason Mr Murdoch wouldn't have welcomed Mr Blair into his home. But one day Mr Blair arrived and Mrs Murdoch was sort of being very flirtatious. She was charming him."
Blair, the insider said, "asked the staff, 'When is Mr. Murdoch going to arrive?' And when he was told, 'Tomorrow night,' Mr. Blair rolled his eyes and gave a panicked look."
In response to the report, Deng and Blair's reps have claimed the two were just friends with no romantic attachments.