Rupert Murdoch 'Annoyed' At Phone Hacking Coverage; Loses Top Executive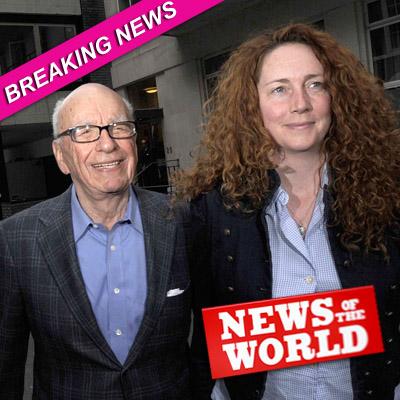 By Adam S. Levy - RadarOnline.com Staff Writer
As Rupert Murdoch says he's getting "annoyed" at the coverage of the phone hacking scandal that is threatening his vast media empire, the mogul has lost one of his top executives.
Rebekah Brooks, a member of Murdoch's inner circle, resigned as the chief executive of News International on Friday, becoming the most high-profile exodus linked to the company's phone hacking scandal that stopped the presses on News Of The World after 168 years last week.
Article continues below advertisement
Brooks presided over News of the World from 2000 until 2003, when many of the alleged wrongdoings occurred; since 2007, she's been at the head of four British newspapers the parent company, News International, publishes.
"I have believed that the right and responsible action has been to lead us through the heat of the crisis," Brooks told her peers in an email released by the company. "However my desire to remain on the bridge has made me a focal point of the debate.
"This is now detracting attention from all our honest endeavours to fix the problems of the past."
Sky Italia TV exec Tom Mockridge will replace Brooks, the company said, adding he will go before a U.K. parliamentary committee July 19 to address the alleged indiscretions next week. Both Rupert and James Murdoch have been summoned to appear before the same committee.
Brooks was a favorite of Rupert Murdoch's, and he reportedly did not want her to step down.
Article continues below advertisement
The 80-year-old media magnate told The Wall Street Journal (which he owns) on Friday he's "just getting annoyed" at the way the British media has sensationalized the scandal, and that whispers he might sell off other chunks of his empire amount to "pure and total rubbish."
He said his company has handled the issues at hand "extremely well in every way possible," having just made "minor mistakes" along the way.
News of the World has been accused of hacking into thousands of cell phone messages, including those belonging to celebrities, the family of murdered schoolgirl Milly Dowler, and the families of victims of the 7/7/05 bombing.
According to the English paper The Daily Mirror, News of the World also hacked into the phones of the families of 9/11 victims to generate content for their publication. The FBI has launched an investigation pertaining to the 9/11 allegations, according to U.S. Attorney General Eric Holder.
Article continues below advertisement
"There have been members of Congress in the United States who have asked us to investigate those same allegations and we are progressing in that regard using the appropriate criminal law enforcement agencies in the United States," Holder said Friday.
In related news, News International chairman James Murdoch said Friday he would launch a series of ads apologizing for the fiasco in newspapers across England, adding his company will discuss "the wrongdoing that occurred" in the near future.