Heading For A Split? Nick Cannon Parties Solo As Mariah Carey Complains About Being Abandoned By Her Husband On Valentine's Day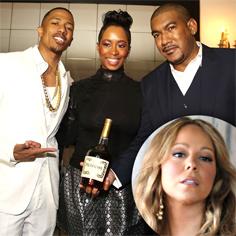 On Mariah Carey's new single "You're Mine" the pop diva belts out romantic lines like "I can't seem to live without your love." But these days, life does not seem to be imitating art. Carey and husband Nick Cannon have been living separate lives for months, as RadarOnline.com has reported, and now with Valentine's Day on the horizon they seem to be more distant than ever. Just hours after Carey complained during a radio interview that her husband was leaving her alone for Valentine's Day, Cannon went out on the town solo in NYC.
Article continues below advertisement
Carey was nowhere to be seen as Cannon worked the crowd at the Hennessy V.S. & Blue Magazine bash in NYC on Wednesday night, happily posing with cocktail waitresses and chatting with friends.
Earlier that day, Carey had gone public with her marriage issues.
"He's not even going to be home on Valentine's Day from what I hear now …" she confessed to Power 105.1 Radio's Breakfast Club. "The schedule darling, the schedule darling."
She went on to complain about Cannon's inability to make time for her in the past -- a constant issue in recent months.
When she was spotted on a yacht in Italy with singer Miguel last summer, Carey says, "Nick was all mad about it, and I was like, 'Why? You could've been there. I didn't tell you not to come. You were an hour away (in Monaco)."
Perhaps as a result of her distance from Cannon, Carey said that these days, "The top priority for me are the kids twins Monroe and Moroccan that's it."
Article continues below advertisement
Cannon's partying at the Hennesy bash only appears to have made the situation more tense. The next morning, when Ryan Seacrest asked Carey about her Valentine's plans during a radio spot, she sniffed, "The abandoner is going to be somewhere else. And by abandoner, i mean Nicholas Scott Cannon. I was giving him beep about it all day. I'll be alone with the babies, but they're my Valentines anyway."
Cannon recently insisted that the couple are doing great and still have "lots of sex," but in yet another sign that a split could be imminent, the couple recently listed their Bel Air home for nearly $13 million. Carey has said that Cannon prefers to live in L.A., while she is a New York girl.