Mariah Carey And Nick Cannon's Separate Lives Confirmed: Mimi Recalls She Was 'Alone Most Of The Time' While Pregnant With Their Twins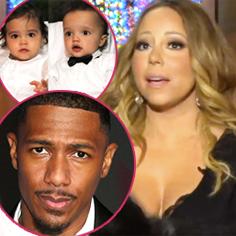 Article continues below advertisement
She explained, "I had preeclampsia; I had gestational diabetes, a really difficult pregnancy and I was alone most of the time."
Seeming to realize how that sounded, Carey quickly added, raising her voice, "We love Nick, but he's working!
"He's the hardest working man in show business. Hi, Nick!" she said, smiling and waving at the camera and blowing her husband a kiss.
Earlier, Carey had told the fan who called in to Cohen's Bravo show, "Nick and I have a boy and a girl, I couldn't ask for better."
She joked of the America's Got Talent host, "If Nick could have the babies himself, then maybe. Then, bring 'em on. We love kids!"
But the pop icon implied twins are enough of a responsibility.
"I'm responsible for these children 'til forever so I look at it like, they didn't ask for this lifestyle, here they are and it is so different than just being able to just be like, 'OK, bye, well, I'm going here now, I just did a show, I'm leaving.'"
Article continues below advertisement
Carey said, "To anyone who's ever carried twins, it's a totally different experience to carry twins in your body; you don't even know who you are."
Later, when asked her Christmas plans, the "All I Want for Christmas Is You" singer strangely didn't mention Cannon, saying, "I'm going to have the best time possible in a snowy layer ensconced in Aspen with the babies.
"We're going to have as much fun as possible -- I have to have snow."
But would Cannon be with her after -- as RadarOnline.com has reported -- they went more than 100 days without being photographed together? Carey's comment left that unclear.
Also during the Sunday night interview, Carey continued to complain about her experience judging American Idol this season (she famously feuded with fellow judge Nicki Minaj and neither one is coming back).
In November, she had likened the experience on the hit FOX show to "being in hell."
Article continues below advertisement
And Sunday night, when Cohen asked if she'd ever judge another TV show, Carey replied, "No."
"You know what I really should have been doing on that show is doing the mentoring," she declared. "I'm a producer, a writer, people don't realize that."
The diva, clad in black gloves, said, "Let me quote my resume," but added, "I have fourteen number ones as a producer, which is more than anybody. People don't know that, because women, we're either supposed to be a diva or you're behind a piano, you're allowed to be a songwriter."
Carey said friends encouraged her to do Idol so fans could see her personality and she decided it would be cool working with pal Randy Jackson.
"It'll be a three-person panel, the typical thing," she recalled thinking. "And then, they tie me up with this -- it was so typical show biz 'twirl the mustache' moment. I'm not blaming anybody.
"This is a disclaimer -- this is not about anyone in particular except I wouldn't have done the show had I known that they were doing a total experiment village moment and I get to be the person who's out in front.
Article continues below advertisement
"And it wasn't my bag."
Watch the video on RadarOnline.com
Carey also good naturedly talked to Cohen about her 2001 movie bomb, Glitter -- "It was called the G word. We couldn't bring it up" -- and an old alleged boyfriend, Eminem.
When asked to say something nice about Eminem during one of Cohen's games, Carey joked, "They come in a package that you can carry wherever you go."
Carey told Cohen that she's still working on her next album.
She said injuring her arm this year pushed the album back "and then I said, I'm really not ready with this.
"I need the arc of the album ... I really need people to understand what I've been through and if this were to be my last album, people would hear everything that they needed to hear. We're going to get there."