Exclusive
'Mob Wives' Star Alicia DiMichele Garofalo Plans To Divorce Her Jailed Husband, Eddie 'Tall Guy'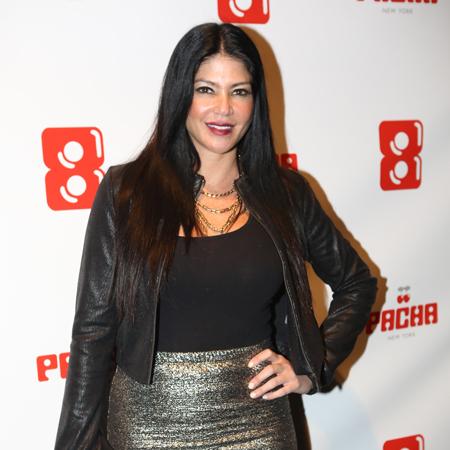 Alicia DiMichele Garofalo is planning to file for divorce from her imprisoned husband Eddie "Tall Guy" Garofalo, the Mob Wives star tells RadarOnline.com exclusively.
"My husband and I aren't together anymore," Alicia told Radar. "I'm filing for divorce within the next couple of months."
Alicia said there were "too many reasons to mention" for filing, adding there was "just a lot of betrayal" that led her to the decision.
Article continues below advertisement
"At the end of the day, I could be taken away from my children," Alicia said. "I don't know what's worse than that."
But the heartache didn't end there: around the time that they ran into legal problems, Alicia heard wiretaps of her husband talking to his ex-girlfriend Carla Murino, and found out Eddie and Carla had dined together.
"I was eight months pregnant and he lied and said he was working," Alicia said. "And he actually was going out to dinner with her and didn't come home."
Article continues below advertisement
When Carla confronted him about it nearly four years ago, he acted "like any man would if you get caught in a lie," she said. "He's caught on a wiretap. There's not much you could say to defend yourself."
The Hottest Stars From Reality TV
Currently, the storyline about the wiretaps of Eddie and Carla is being played out on screen in Mob Wives season 4, but Alicia wanted fans to understand that the whole incident actually took place years ago.
"I just would like to clarify that the issue for what's being portrayed on the show, they're acting like it's now," she said. "But it's been four years. We haven't been together since then."
Alicia tried to put on a brave face over the past several years, but it finally came to the point where she couldn't take the pain anymore.
GALLERY: Hollywood Stylists Tell All — 17 Extreme Celebrity Makeovers
"It's just come to the time where I've made that decision that I just don't feel like it's something that I can get over," she said of the heartache Eddie put her through. "I just endured too much as a woman of betrayal."
Article continues below advertisement
But even though she plans to end her marriage, Alicia claimed that she will always care about her soon-to-be ex-husband.
"He's the father of my children," she told Radar. "I'm always going to love him. He's always going to be a part of me and the boys' lives.
"Just because I'm not like the other Mob Wives and bash, doesn't mean I don't have heartache and betrayal as well," she said. "I just choose to deal with mine differently."
Now, Alicia and her three sons are trying to get over the heartbreak by "surrounding ourselves with all people who love and support us constantly."
"It's really tough for me, but who is going to save me?" Alicia, who recently hung out at Pacha in NYC, concluded. "I have three boys depending on me. I can't fail now. I'm not going to fail. I have to save myself."