Exclusive
New 'Mob Wives' Star Natalie Guercio: 'People Consider Me Fiery, But I'm Just Me'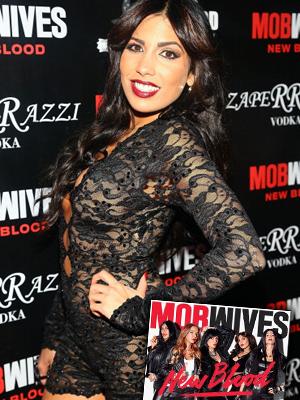 Article continues below advertisement
"Me, I'm my own person. I do as I please and as I feel," she told Radar.
The Hottest Stars From Reality TV
"I say whatever I want. People consider me fiery just because I'm so outspoken, but I'm just me."
But that's not all Guercio had to share about her life. Check out Radar's full interview with Guercio:
Radar: Why did you decide to join Mob Wives?
Guercio: I basically just decided to tell my story. I've been through half of what the ladies have been through and how I just generated away from that focusing more so on my son and my business and getting that together.
Radar: How are you connected to the other Mob Wives?
Guercio: I've known Alicia from before through my ex-boyfriend's friends. My ex-boyfriend, his friend is her brother. Then the other girls, it's just basically through Alicia.
Radar: Do you have any family members that were/are in the mafia?
Guercio: I can't talk about that.
Radar: Tell us about the funeral home you run and how it's affiliate with the mob.
Article continues below advertisement
Guercio: When I was younger, back in the 80s, early 90s, it was just really big in South Philly with that sort of lifestyle, basically when it was a "hot time." Around then, there were a lot of deaths going on and we were one of the funeral homes in the area that would get a lot of the funerals of the alleged hits.
Radar: Why is your funeral home the place that the mafia has always gone to?
Guercio: We were well respected in the city. (We're a strictly legitimate business.) It's the word of mouth and what our statutes were at the time, just with respect and the business end of it how we were always professional.
Radar: Have you ever been in trouble with the law before?
Guercio: Not with me. No, my father would kill me.
Radar: How did you explain to your son Nunzio that he was going to be filmed for the show?
Guercio: I told him about and he was right on board. He was like, "Yes! We're going to be on TV and we're going to have fun." He was excited.
Radar: Did you have any hesitations about putting your son this type of show?
Article continues below advertisement
Guercio: No, because it's just basically showing my life. I am single mom and I've been raising my son alone since he was two. I wanted to show all the women out there that being a single mom, you can still raise a child, hold down a business, and take care of your family without having a man to help you.
Radar: What's the story with Nunzio's father?
Guercio: He's there for his son. My son, he's half Spanish, half Italian. My son's father, he lives in New Jersey, so he's just he's not part of the show at all.
Radar: Were you married to Nunzio's father?
Guercio: I was with his dad back in 2001 and we were together off and on for 6.5 years. It didn't work out obviously. But he's still in his son's life.
Radar: Rumor has it that you were married in 2009. Who were you married to?
Guercio: That's funny. I was never married. There was talk of us Guercio's ex-boyfriend after she dated Nunzio's father getting married. That was my ex who was incarcerated at the time.
Article continues below advertisement
Radar: Were you even engaged to your ex-boyfriend?
Guercio: We weren't engaged yet. We were talking about getting married. But then when he came home from prison… our whole relationship was a lie and I found that out after.
Radar: This ex-boyfriend, is he Italian and is he how you have experience with the mafia?
Guercio: Basically.
Radar: What's the deal with this ex-boyfriend?
Guercio: It was a very bad breakup. It was a difficult time for me.
Radar: Can you tell me about your current boyfriend, London?
Guercio: We've been friends for about 5 years. When my boyfriend was incarcerated, we were just platonic friends and he always respected me and never tried to make a move on me. And then when I broke up with my ex-boyfriend, London had a girlfriend. And when he broke up with his girlfriend, I had a guy I was talking to, so it was never the right time… until last year. We've been together ever since. It's been great.
Article continues below advertisement
Radar: Is he Italian?
Guercio: No. He's Puerto Rican and Philippine.
Radar: Who are your friends and foes within the cast?
Guercio: My very good friend is Alicia. Me and Drita D'avanzo also clicked because we're both the same type of person: We really just don't care and we're just our own person. Big Ang, I love Big Ang. She's just a sweetheart and she's like that mom figure you go to. Renee Graziano… haha. I guess you'll have to stay tuned to watch for that one.
Catch Mob Wives on VH1 on Thursday nights.