Exclusive
Mob Wives' Ramona Rizzo Slams Carla Facciolo -- She's Racist & Homophobic!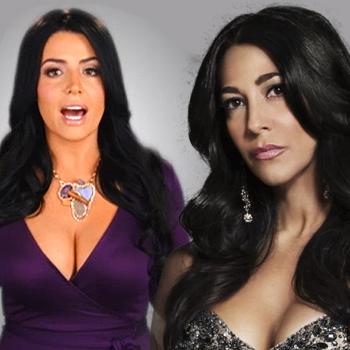 Season three of Mob Wives ended with a drama-filled reunion show, but castmate Ramona Rizzo claims certain parts were "conveniently" edited out, and RadarOnline.com has all the exclusive details of what was missed — including accusations of racism and homophobia!
According to Ramona, Carla Facciolo -- who got into it with Love Majewski, causing her to be fired from the show and uninvited from the reunion after threatening a lawsuit — is the last person who should be crying bully, because she's spewed a fair share of hatred herself.
Article continues below advertisement
"All season long, we repeatedly heard racist and homophobic comments from Carla," Ramona revealed in an exclusive interview with Radar.
"During the reunion, she made more racist comments and attacked my family, which were largely edited out."
Ramona wanted to speak out about the bully accusations made by Carla on the show because she felt it was unfairly skewed with important parts left out.
"I was not being a bully," she explained.
"I was putting a dog that doesn't know how to behave back in its cage."
As RadarOnline.com exclusively reported on Thursday, new cast member Love was already given the boot after Karen Gravano said Carla threatened to sue the network over a nasty cat fight between the two.
"Carla's threatening to sue and VH1 wanted to avoid any lawsuits," Karen said.
"The thing about it is when Drita, Ramona and I had a falling out the second season, we pretty much could talk it out without getting the police and lawyers involved. But Carla's sue happy."