Facing Jail: 'Mob Wives' Star Alicia DeMichele Garofalo Stills Hopes 'To Be Inspiration To My Children'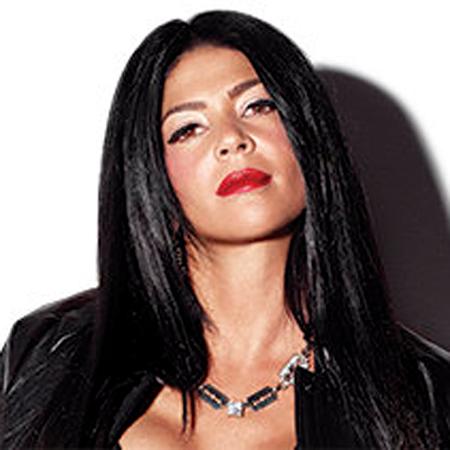 New Mob Wives star Alicia DeMichelle Garofalo has already admitted to RadarOnline.com that she is very nervous about the possibility that she might have to spend time behind bars for pleading guilty to charges of fraud and embezzlement, but that hasn't stopped her from being forthcoming with the feds.
After reports that the feds had been investigating Garofalo's finances once more since she joined Mob Wives, Garofalo told RadarOnline.com that she willing handed over paperwork to the government about her financial situation.
Article continues below advertisement
"They did ask for an updated financials," she said.
Garofalo also told RadarOnline.com that in another case involving Gucci — in which Garofalo was under fire for allegedly selling products at her boutique with the Gucci sign on them — Gucci has dropped charges against her.
"They dropped all the charges for that," she said. "Just to clarify, they were handmade items. We weren't trying to sell something that was said to be Gucci that wasn't."
However, she admits that life is more stressful with possible jail time looming in her future.
"I suffer severe anxiety. I can't even believe I'm doing all of this by myself."
Check out the rest of Garfalo's exclusive interview with RadarOnline.com:
RadarOnline.com: Why did you decide to join Mob Wives?
Garofalo: After how I was being portrayed in the newspapers, I felt like it would be better for me to tell my own story.
Article continues below advertisement
RadarOnline.com: Will your husband Edward "The Tall Guy" Garofalo be appearing on camera?
Garofalo: No, he will not.
RadarOnline.com: How do your kids feel about Edward being behind bars?
Garofalo: It came as a shock obviously to all of us, but I do choose to be very open and honest with our children because they obviously need to trust me and him. If they don't have that trust, it's not healthy for them. I do make every effort to keep the memory of how they know their dad alive. He's a wonderful man, a great father and he's fun. We have a lot of great family memories and that's what I want to keep on instilling in them because that's who we know and he is coming home.
RadarOnline.com: When is he expected to come home?
Garofalo: He actually didn't get sentenced yet. I'm assuming it's probably going to be under 2 years or a year and a half.
RadarOnline.com: Have you ever thought about divorcing Edward?
Garofalo: No. It's just not something that I am thinking about at this time.
RadarOnline.com: Do you ever regret marrying someone who is affiliated with the mafia?
Garofalo: I could say I obviously don't regret marrying him because I have three beautiful children, but that's a hard question. I don't like the situation that I'm obviously placed in now, and I don't think I knew everything I know now. Of course if I did, my decision… I can't really answer if I were to make the same decision or not.
Article continues below advertisement
RadarOnline.com: Do you take your kids with you when you go to visit your husband?
Garofalo: Yeah. And unfortunately he's still in a holding cell, so it's actually only an hour visit, which is really tough.
RadarOnline.com: How do they handle it when they go to visit him?
Garofalo: Believe it or not, when we go there sometimes — they sit on his lap and he plays with them — he makes it so warm and loving with them that for a split second, you could think we're on the couch in our home.
MORE ON:
Celebrity Justice
RadarOnline.com: Are your kids being filmed for the show?
Garofalo: Yes and that was my decision because for me to be portrayed as who I am, you need to see me as me and that's with my children.
RadarOnline.com: How would you describe yourself?
Garofalo: I am very family oriented. I was such a happy wife in love with her husband. I just don't see myself as the typical mob wife. I'm the soccer mom.
RadarOnline.com: How would you describe your relationships with your costars?
Article continues below advertisement
Garofalo: Renee Graziano and Big Ang have known my husband for 30 years and I just met them coming on the show, but the person that I'm most compatible with is Drita D'avanzo because I feel like her situation with her husband four years ago is me with mine now. And Natalie Guercio is from Philly. We run in the same circles and she's a great girl. But There's some people you have more things in common with than others, though.
RadarOnline.com: There's a rumor that you are carrying on affair with a man in your neighborhood. What can you say about this?
Garofalo: That's not even worth a comment to be honest with you. It sounds like a good read but that's about it.
RadarOnline.com: Has Edward said anything to you about the cheating rumors?
Garofalo: He's just a family friend. All parties involved know the truth. It wasn't any new news.
RadarOnline.com: How is Edward handling you being by yourself on the outside while he is locked up?
Article continues below advertisement
Garofalo: It's hard for any man, especially my husband. When they are away, they feel helpless. It's a constant worry to make sure me and the boys are okay, but I'm holding it together well and I tell him that he should be very proud of me.
RadarOnline.com: Is it tough doing this on your own?
Garofalo: I suffer severe anxiety. I can't even believe I'm doing all of this by myself. But I would like for other women to be like, "Well she did it." I was already on the floor. I picked myself up. I'm not going back there.
RadarOnline.com: Is there anything else you want to share about yourself?
Garofalo: I'm just really trying to show how I'm trying to survive with my three kids while my husband is incarcerated and I could possibly be facing jail time. I just want to be some kind of inspiration to my children or towards someone else watching.