She's 2014's Tammy Wynette! LeAnn Rimes Stands By Her Man Eddie Cibrian, During Latest Round Of Brandi Glanville Drama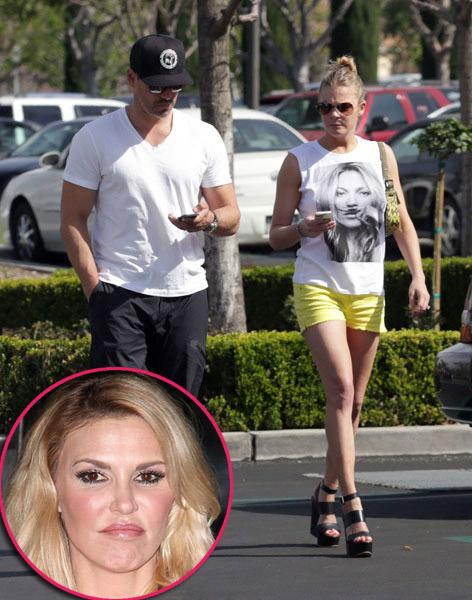 LeAnn Rimes and Eddie Cibrian shrugged off the handsome actor's fiasco with ex-wife Brandi Glanville for an outing in Beverly Hills Thursday, and we've got the shots for you right here on RadarOnline.com.
The 31-year-old "How Do I Live" singer was quite the head-turner strolling through one of the world's most affluent areas, showing off her fab physique in a t-shirt (with Kate Moss' image emblazoned on it) and yellow hot pants that showcased her long, toned legs, and black heels that gave the ensemble a sexy kick.
Article continues below advertisement
The good-looking actor, 40, was considerably more low key in a white shirt with baggy black pants, his stubble showing patches of grey that could be attributed to his stressful dealings with his spendthrift ex over a six-figure sum he overpaid in child support for their two sons, 10-year-old Mason and 6-year-old Jake.
In typical Brandi fashion, the Real Housewives of Beverly Hills star has ranted about the hunk's request to anyone who'll listen, claiming (erroneously) that Eddie was asking her for child support; posting personal legal documents on her Twitter page; and at one point, alluding to Rimes' deep pockets in a possible effort to curry public support, calling the sexy TV star "Mr. fancy new cars & house man."
Cibrian, through his rep, maintained that that Brandi's latest bout of acting out is "preposterous," and "yet another ploy for self-promotion," the timing of which dovetails with the release of her new book, Drinking & Dating: P.S. Social Media Is Ruining Romance.