War Of Words: Kenya Moore Thinks NeNe Leakes Is 'Scared,' Sees Her As A 'Threat'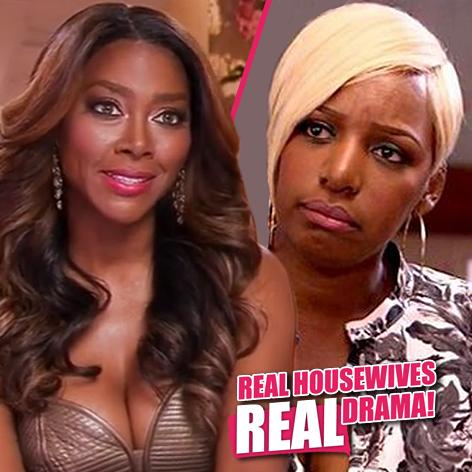 Following the violent brawl on The Real Housewives of Atlanta during the pillow talk party, Kenya Moore has high hopes that she'll overthrow the show's alpha dog, NeNe Leakes.
After Moore organized the event not only to raise funds for Saving Our Daughters, one of Leakes' favorite charities, Leakes decided to forgo any etiquette skills, creating plenty of drama on Sunday night's episode.
Fans became to pour their support for the former Miss USA on Twitter, claiming Leakes was only creating drama to stay relevant.
Article continues below advertisement
One of Moore's Twitter followers opined: "NeNe sees that @KenyaMoore is the future of #RHOA, and she's scared," Moore replied, "Sadly the real truth."
Another fan added that Leakes sees Moore as "a threat," to which the former Miss USA quipped, "Fans are not dumb."
Despite hoping to be the queen bee, Moore admitted the two might be friends – someday.
People We Love! Hollywood's Most Inspiring Rogues, Renegades & Rule Breakers
"Never say never," she told fans.
The feuding co-stars haven't been quiet about their hatred for one another.
As RadarOnline.com previously reported, Leakes has ripped Moore's star power on more than one occasion.
"I have come a long way baby! I know when somebody wants a reaction out of me for their own purposes. I know water is free in America, but so many of these girls are thirsty!
"I'm not willing to risk what I have, what I have worked for, and what I have become for somebody that has been on a 20 year hiatus!" NeNe said slamming the former Miss USA.
Moore quickly responded to the snide remarks.
Faked Scenes, Lies & Payoffs – The Ultimate Guide To Reality TV Shows
"I find it interesting that people in glass houses throw stones and call people names more befitting to themselves such as fake.
"My instincts are always accurate, and I only hope the lies on all levels stop. You can only be successful in life when you are real. Being fake will never get you anywhere," Kenya wrote on her Bravo blog.