You Can't Afford It! NeNe Leakes Mocks Kenya Moore For Snubbing Apartment 'Clearly Out Of Her Price Range'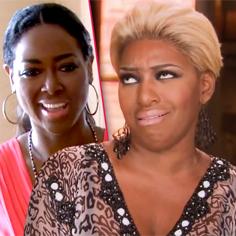 NeNe Leakes tried to extend the olive branch to rival Kenya Moore by taking her real estate hunting on Sunday night's episode of The Real Housewives of Atlanta. But the peace offering didn't last long.
After seeing that Kenya was living in a "hood hotel" during her eviction drama, NeNe took her to see some exclusive properties, but Kenya turned up her nose at a penthouse condo with a more than $1.6 million asking price — because it was a mere 4,000 square feet!
Article continues below advertisement
Kenya told the cameras 5,000 square feet was her minimum.
After the episode aired, NeNe called out her co-star.
"I'm not Kenya's friend, but I am trying to get to know her, so I wanted to reach out to her to help her with looking for a home, because Atlanta is my city," she wrote on her Bravo blog Monday.
"I took Kenya to one of the finest, most exclusive penthouses in Atlanta, but I know when a girl can't afford something, so I joked and we exited the building because I clearly had taken her out of her price range!" she added.
The comments didn't sit well with Kenya.
"I can call foul and say NeNe was throwing shade about my living arrangements… No one should try to count my money, especially when one has never owned a home of their own," she wrote on her Bravo blog.
HOTOS: Reality TV's Hottest Stars
The former Miss USA continued to rant about NeNe's snide remarks.
"I find it interesting that people in glass houses throw stones and call people names more befitting to themselves such as fake.
"My instincts are always accurate, and I only hope the lies on all levels stop. You can only be successful in life when you are real. Being fake will never get you anywhere," Kenya added.