Exclusive
It Was All For Show! Kendall Jenner STILL Living At Home With Momager Kris Jenner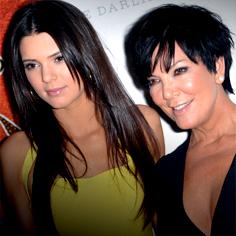 There was drama abounds on Sunday night's episode of Keeping Up With The Kardashians as Kendall Jenner expressed a desire to move out of momager Kris Jenner's Hidden Hills, Calif., mansion.
However, RadarOnline.com has learned exclusively that nearly three months AFTER that episode was filmed, Kendall, 18, is STILL living with Kris, Kim, Kanye, their baby North and little sister Kylie in the overcrowded family compound!
Article continues below advertisement
"Kendall actually loves living at home with Kris and her family," a source close to the family told Radar.
"In fact, everyone has always joked that Kendall will likely to be the last one to leave the nest. Kylie will move out as soon as she turns 18. It was only a storyline for the show to drum up faux controversy between Bruce and Kris!"
The aspiring model, 18, shocked both her mother Kris and sister Kim, 33, by making rumblings that she might be getting antsy under the family roof.
"I kind of want to move out," the teen fashion model said, drawing raised eyebrows from Kim and a look from Kris that screamed, "Over my dead body."
They Really Did Say It! 50 Outrageous Kardashian Quotes
In her off-camera interview, Kendall said: "I am looking forward to turning 18 … it's one of my first steps in becoming an independent woman and one of the first things I want to do is get a place of my own… it's exciting to see what's out there!"
Article continues below advertisement
As RadarOnline.com previously reported, the lanky Jenner had social media buzzing with her provocative crawl down the Marc Jacobs runway at New York Fashion Week, where she was dressed to kill in an all-black outfit centered around her leather leggings.
"Kendall has been told by several high profile fashion photographers that she definitely has a future in modeling," an insider previously told Radar.
"However, she was advised that continuing to appear on reality television will diminish interest in her as a model. The problem also is scheduling. Kendall is contractually obligated to appear on the show and there is a huge time commitment involved.
"In the past, she has had to pass on modeling shoots because shooting for the television show takes precedence."
Our sources said, "It wouldn't surprise anyone if Kendall ended up moving into the gated community where Kris lives. She is very close to Kris and won't venture that far away from her, ever."