Exclusive
Jenelle Evans Admits Smoking Weed While Pregnant In Shocking Text Messages, Says It Eases Her Morning Sickness Claims Pal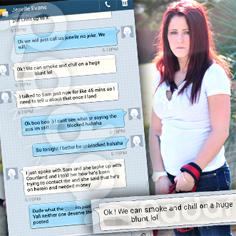 Article continues below advertisement
EXCLUSIVE TEXT MESSAGES: Jenelle Evans Admits To Smoking Weed While Pregnant
"We can smoke and chill on a huge f**king blunt lol," Evans tells her friend in the Monday, Feb. 10 text message.
And it seems the MTV star managed to find some marijuana while on her trip to Tinseltown too, texting her friend that she wanted to smoke while driving down "the strip."
"Let's drive and smoke I don't want to be here," she wrote on Sunday, Feb. 9.
"Just down the strip and back or something I need to get away."
According to her pal, Evans has five or six bongs at home she uses to smoke weed and continues to do so while pregnant to ease her morning sickness.
"She told me that if she doesn't have weed she will throw up due to her pregnancy," the insider told RadarOnline.com.
"So she always has a lot of weed on her at a time."
And when she runs out, the pal claims Evans makes a nearly two-hour trip to get some.
Article continues below advertisement
"I have been over at her house before when Nathan asked Jenelle to take fireball shots with her," the source told RadarOnline.com.
"Jenelle smelled it and claimed she almost threw up because she is pregnant. Nathan told her a couple shots wouldn't affect the baby, but calm Jenelle's nerves."
Evans was arrested just two months ago at her Myrtle Beach home after neighbors called the cops to report fighting they heard coming from her house.
Article continues below advertisement
"Jenelle and Nathan have been fighting because she doesn't think he appreciates her enough," a source previously told RadarOnline.com.
"She's now trying to tell people that he was just loudly talking on the phone to her mom, but they were really fighting."
And judging by Evans' text messages, when she and Griffith fight, he brings up her estranged husband, Courtland Rogers.
"He said maybe I can get back with my husband and shoot up heroin again," Evans wrote.
"And I'm sitting here silent as usual."
A source close to Evans denied the pal's claims and told RadarOnline.com: "It's not true."
Evans is on unsupervised probation as part of a sentence on drug charges and any infraction of her probation requirements could land her back in jail.
This is at least her eighth arrest since 2010.