Exclusive
Outrage! Pregnant 'Teen Mom' Star Jenelle Evans Brags About Studying, But Has Cigarettes Next To School Books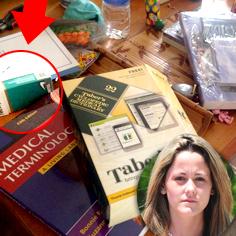 Pregnant Jenelle Evans is trying to get her life straightened out , but a picture that the Teen Mom 2 star posted has people outraged with the box of cigarettes on the table.
The MTV star, 22, has written that she is going back to school to work toward earning a college degree and shared a picture of her school books and the Newports which promptly caused outrage among her followers.
"Lovely to see that you are choking out your unborn baby one Newport Menthol at a time," one person wrote.
Article continues below advertisement
A source close to the reality star insisted to RadarOnline.com that Evans is "not smoking during her pregnancy," but the backlash arising from rumors about her bad habits during pregnancy has been swift.
Another source told RadarOnline.com that they are afraid she hasn't stopped smoking since finding out she was having a baby.
"Nathan doesn't smoke, Barbara doesn't smoke. And the cigarettes clearly don't belong to Jace, so who else is smoking them?"
Who do you think the cigarettes belong to? Tell us in comments.