Exclusive
Revealed: The REAL Reason Why Brooke Mueller Doesn't Want Charlie Sheen's Twin Sons Tested For Fetal Alcohol Syndrome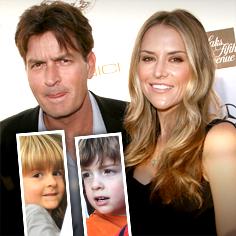 Article continues below advertisement
"Child protective services is actually very impressed with how far Brooke has come, and a FAS diagnosis absolutely wouldn't preclude her from getting them back. It was four years ago, and that can't be held against her."
Sources also tell RadarOnline.com, "Charlie wants the boys tested… However, he is still on good terms with Brooke....they just disagree on this."
Sheen is not expected to be in court on Thursday, while Mueller is.
Article continues below advertisement
"Fetal Alcohol Syndrome can cause problems that may include physical deformities, mental retardation, learning disorders, vision difficulties and behavioral problems, and heart health issues," the Mayo Clinic, the world noted not-for-profit medical practice and medical research group, states.
Babies suffering from fetal alcohol syndrome often have small eye openings, small head circumference and brain size.
The twins were born seven weeks prematurely and Max had to stay in the hospital's neonatal intensive care unit because of a heart condition.
The boys' rambunctious behavior fell under the microscope during the time they stayed with their father's ex-wife Denise Richards, who told authorities her daughters had "been strangled, kicked in the head and stomach, scratched, bit, slapped, punched in the face and head, and spit on" by the boys, who treated the family dogs in the same manner.
Article continues below advertisement
In another instance, Richards said the boys relieved themselves in their younger sister's bathtub, then scattered the remnants all over the room.
Sheen in the past has said he fears for his sons "every second that" they're with Mueller.
"There's stuff going on here that's so criminal, and so unacceptable it's beyond the pale," he said a few months back. "And we're talking about two four-and-a-half year olds."
Sheen added that Brooke's home was "filled with felonious descriptions of child endangerment."
"No one knows how the judge will rule," the insider told RadarOnline.com.
"It would have been a no-brainer if DCFS was recommending it, but since they aren't who knows what is going to happen."