More Lies? Brandi Glanville Stands By Claims Lisa Vanderpump Had Ex-Pal Cedric Martinez Deported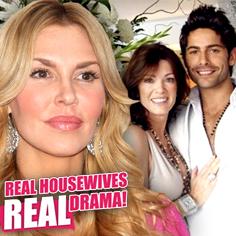 Brandi Glanville spewed more salacious rumors on Monday night's episode of Real Housewives of Beverly Hills — this time accusing Lisa Vanderpump of having her former houseguest, Cedric Martinez, deported back to England, following a messy falling out prior to the filming of season three.
Vanderpump fired back Glanville's deportation claims, musing: "Housewives don't have that much influence over Homeland Securities."
Article continues below advertisement
"If after he left us he was working in violation of his visa, then I am sure it was a problem. I believe he left to return to England of his own volition," the British restaurateur explained.
After fans on Twitter accused Glanville of lying, she stood by the claims!
"I didn't lie. That's what Lisa told us all at the airport in Paris last year. So sorry I chose to believe her," Glanville tweeted.
Vanderpump also divulged that Brandi lied about knowing Martinez.
"She (Brandi) wasn't a "friend" of his and they hadn't modeled together. She had somehow concocted the story with somebody else. She came into my life on a lie…that should have spoken volumes," she wrote in her blog.
Glanville's claims continue to pile up. Last week, she falsely reported that Vanderpump and her husband Ken Todd filed for bankruptcy, which they adamantly denied.
Vanderpump isn't the only victim of Glanville's big mouth.