Exclusive
Sochi Medical Scare: Pink Eye Infected Bob Costas Advised To Leave Russia, But He's REFUSING To Go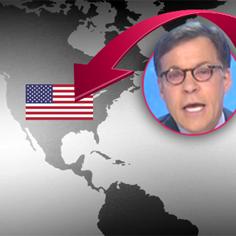 Time to get out of Russia! NBC broadcaster Bob Costas has been battling a nasty pink eye infection and RadarOnline.com is exclusively reporting that he has been advised by doctors to leave Sochi and return to the United States, but the veteran sportscaster is refusing to do so because he doesn't want to risk infecting anyone else with the contagious ailment.
Costas' streak of anchoring 157 consecutive Olympic prime-time broadcasts for NBC, dating back to the Summer Games in Barcelona, Spain, in 1992, came to an abrupt end on Tuesday night when the famed sports broadcaster stepped aside for Matt Lauer due to his battle with highly contagious pink eye.
Article continues below advertisement
"Conceivably, he could go back to the U.S. and perhaps try and return before the closing ceremonies."
Lauer will again be filling in for Costas on Thursday night's prime-time broadcast.
However the source said Costas is refusing to go.
"Bob is reluctant to leave because he is afraid of giving it to someone else because it's so contagious. Anything he touches would need to be sanitized immediately. Physically, except for his eyes, he feels fine....It's a really frustrating situation for Bob because he can't read or watch coverage of the games. His eyes are continuing to tear up, and there is discharge still coming out," the source explained.
Article continues below advertisement
Before Lauer filled in for Costas on Tuesday, the entire set was sanitized and cleaned.
"The entire set was cleaned and sanitized," the source previously told us.
"This had been happening ever since Bob came down with pink eye. NBC doesn't want to publicly acknowledge that Bob has pink eye because it's so contagious and didn't want to scare off athletes that were going to be interviewed by Bob in studio.
The network has been consulting eye doctors in New York City and Costas has been taking antibiotics and prescription eye drops to combat the infection.
Winter Olympics! Ice Skating's 35 Secrets, Tragedies & Scandals
"There are concerns Bob's eyesight could be permanently damaged by the pink eye, which in extreme cases, can cause astigmatism, which causes blurry vision and the appearance of floaters in the eye," a source said.
Meanwhile, Bob can't "even go out and enjoy Sochi or watch any of the other sporting events because his eyes are so sensitive to light. He is joking that he is living in a bubble," the insider added.