Sexy In Sochi: Topless Photos Of Olympic Skier Jackie Chamoun Causes Outrage In Her Native Lebanon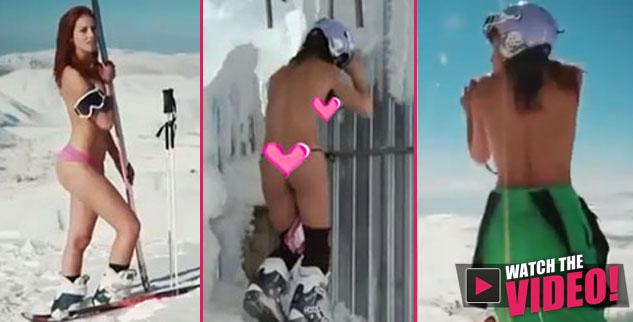 Olympic ski competitor Jackie Chamoun posed for topless photos three years ago that have now circulated online and gone viral, causing outrage in her native Lebanon.
In fact, a potential government inquiry has even been prompted due to the scandal — just days before Chamoun, 22, is set to compete in the women's giant Slalom in Sochi, Russia.
The racy photos were shot by six-time Mexican Olympic skier Prince Hubertus von Hohenlohe for a calendar that features skiers in racy topless poses on various ski resorts around the world.
Article continues below advertisement
Lebanese government feels the revealing footage, seen in the graphic video clip below, may have damaged the country's reputation.
WARNING: VIDEO CONTAINS NUDITY
The photos are tame by most accounts of a nudie calendar and her breasts are covered in nearly every shot, but it was labeled by a local Al-Jadeed television broadcast earlier this week as a "scandal."
According to reports, Lebanon's caretaker minister of youth and sports, Faisal Karami, ordered the country's Olympic committee to launch an inquiry into the photos — which only further fueled the fire, with ridicule aimed at him for not speaking out on greater issues the country has to deal with.
GALLERY: The Giudice's 30 Most Shocking Quotes About Fraud & Finances
"Since the beginning of 2014, there have been no fewer than six car bombs. There is a general lack of law and order, not to mention the lack of a working government. Is there a better definition of a failed state than ours?" the Daily Star newspaper wrote.
"This woman, who should be a source of pride to the country … is being blamed for something she chose to do with her free will, while the everyday concerns of citizens are being wholly and fundamentally neglected."
Article continues below advertisement
Chamoun spoke out on Wednesday thanking the public for their support during this so-called scandal.
In fact, Chamoun received great support in the form of a protest in her favor aptly hashtagged on Twitter, #StripForJackie.
The campaign featured dozens of men and women — some Lebanese — stripping down to show their solidarity with Chamoun via social media.
A Facebook page called I Am Not Naked has already garnered 30 photos in their I Am Stripping For Jackie album in support of Chamoun.
Do you think Chamoun's topless scandal was blown out of proportion, or should Olympic athletes be more responsible and aware of decisions they make? Sound off in the comments below!