Exclusive
Persona Non Grata: Ann Curry's Former 'TODAY' Boss Bans Her From Covering Winter Olympics In Sochi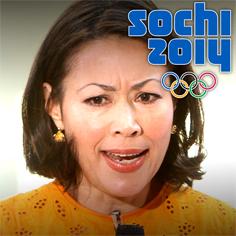 Gays are not the only ones considered persona non grata in Sochi.
RadarOnline.com has learned that Ann Curry, once the darling of NBC's Olympics coverage, has been banned from serving the Peacock network in Russia by the same man who oversaw her embarrassing demise at TODAY.
Jim Bell is serving as NBC's executive producer for his second straight Olympics. He held the same post at TODAY until his demise last November, in the wake of what was reportedly "Operation Bambi" — the plot hatched by himself and other executives to force Curry, 57, from her co-anchor post.
Article continues below advertisement
"There was no way Jim was going to allow Ann to do any reporting from Sochi for the Winter Olympics," a source told RadarOnline.com.
"He thought she would be huge distraction and a liability to NBC. It's no secret that Jim and Ann do not get along. Ann was disappointed not to go to Sochi because she has been a staple in past Olympic coverage on NBC."
During the Summer Olympics in London 2012, Curry stonewalled former colleague Matt Lauer as he made an attempt to make small talk during an appearance on TODAY, after she was fired.
MORE ON:
Good Morning America
"The atmosphere really changed when Jim stepped down from being executive producer of TODAY and it has definitely been positive."