Exclusive
A New Beginning: Amanda Bynes Responding Well To Schizophrenia Meds, Parents 'Thrilled With Her Progress'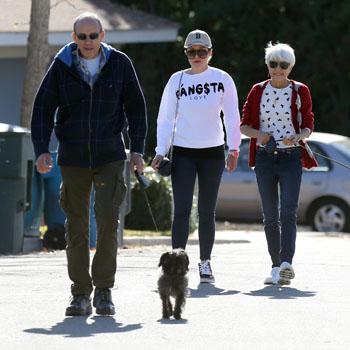 Since formally being diagnosed with schizophrenia, Amanda Bynes has been slowly getting better, and her parents Rick and Lynn are thrilled with the progress the troubled actress is making as she begins to resume her new life, RadarOnline.com is exclusively reporting.
"Amanda is responding very well to the medication she is taking for schizophrenia. Rick and Lynn are absolutely thrilled with the progress she has made in such a short amount of time. She continues to see doctors several times a week. Taking a class in fashion merchandising at a fashion school in Orange County has been an incredibly positive experience for Amanda," a source told Radar.
Article continues below advertisement
"It's only one class, but it's enough to keep Amanda busy. The only kink is the commute which from her parents house in Thousand Oaks to Orange County is long, and Amanda is always driven by one of her parents or another family member. When not in class or at the doctor, Amanda has been frequenting the gym. Her parent's have told friends they feel that they have their beloved daughter back for the first time in years."
Radar broke the story in September: Following months of erratic and bizarre behavior, Bynes was diagnosed with schizophrenia and hospitalized after setting a fire in the driveway of a neighbor in Thousand Oaks, Calif., last summer.
Lynn was subsequently granted conservatorship of her daughter, and since being released from a treatment facility, has been living with her parents.
After being released from treatment in Dec., Lynn and their family attorney Tamar Arminak told Radar in statement, "Amanda has completed her inpatient rehabilitation and she's feeling better every day. She's now looking at various colleges with the intention of majoring in fashion design. She's mentioned before she's interested in creating a clothing line.
"Despite the fact Amanda is no longer in a facility, her outpatient treatment is continuing. She's very happy to re-establish the loving relationship with her family that she once shared."
Living with her parents has been "extremely essential for Amanda's progress. However, Amanda has been expressing a desire to move out, which is actually a good sign," the insider added.
"It's not likely she will be moving out of their house for at least the next several months."