He Bangs No More: Ricky Martin Splits From Boyfriend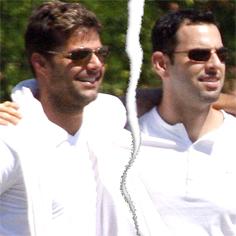 Ricky Martin has split from his long-term boyfriend.
The 'She Bangs' hitmaker - who has five-year-old twins, Matteo and Valentino, born via surrogate in August 2008 - and his partner Carlos Gonzalez have called time on their relationship after almost five years together.
A spokesperson for the 42-year-old star - who announced he was homosexual in 2010 after years of speculation - told People: "Ricky and Carlos have mutually agreed to end their relationship but continue to be united by friendship and their shared experiences."
Article continues below advertisement
Celebs Who Have Come Out As Gay Or Bisexual
A source close to the duo hinted in November that all was not well between them.
The insider said: "They've spent very little time together and have grown apart. They've been on the outs for a while now."
The Latin heartthrob previously gushed about Carlos and praised him for supporting him.
He told Vanity Fair magazine last April: "I have experienced wonderful things with my partner. Complexity, understanding, and, at the same time, freedom, not being afraid that your partner is judging you. That is what I have found with Carlos."
He added: "We're going on four years together ... When I started the process with my sons, Carlos wasn't in my life. He said: 'I'm looking for a boyfriend, not a father with a family.' And I said to him: 'You've found a grown-up, full-fledged man.' I created a family structure and if he didn't understand he'd ask me questions and we were on our way."