Exclusive
Richie Sambora Thumbs His Nose At Bon Jovi: I Left The Band, But Will Play Their Greatest Hits Anyways!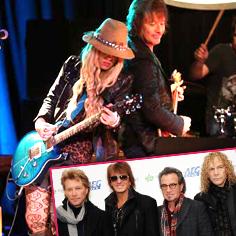 Richie Sambora left his long-time position with Bon Jovi, but that doesn't mean the guitarist won't be playing some of the band's most famous songs during his gigs.
After a falling out with lead singer Jon Bon Jovi, Sambora left the band last spring and a source close to the guitarist exclusively tells RadarOnline.com that Sambora will be performing some Bon Jovi classics when he plays the Soundwave Australian Festival 2014.
Article continues below advertisement
"He's a late addition to the lineup, but plans to unlatch a few co-written Bon Jovi classics while touring the country," the source told RadarOnline.com.
"Sambora is stepping into the front man role and has recruited Australian Alice Cooper and Michael Jackson guitarist Orianthi Panagaris, better known as the Queen of Shred. There is a magical chemistry and a vibe that can't go unnoticed while watching them jam together."
As RadarOnline.com exclusively reported last summer, after leaving the band, Bon Jovi ticket sales plummeted.
"Jon has been keeping Richie out of the band," a source close to the situation told RadarOnline.com. "And, frankly, he's been a real jerk to Richie, saying some awful things.
"Maybe Jon wants to prove the band can be just as good or even better without Richie. But based on what's happening now that's not working out well."
But things are working out nicely for Sambora, 54, who was honored at the famous Breeder's Cup in Arcadia, Calif. by playing the "Call to the Post."
"Fans can expect lots of jamming, improvisation and guitar interplay between Richie and Orianthi. I think that's what people wanna hear and trust me, Richie and Ori are gonna jam," the insider told RadarOnline.com.
"They are looking forward to writing together and have sincere mutual respect."