Exclusive
Bon Jovi's Richie Sambora Plays 'Call To The Post' At World Famous Breeder's Cup -- Your First Listen!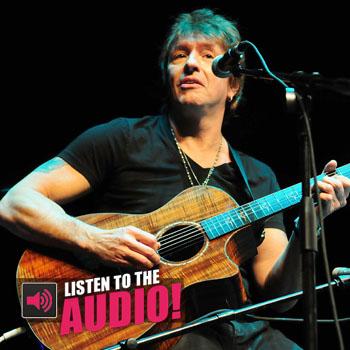 Bon Jovi guitarist Richie Sambora played the famous Call to the Post on Friday afternoon at the Breeder's Cup in Arcadia, Calif. and only RadarOnline.com has your exclusive first listen.
If you're not familiar with the Call to the Post, you will be when you hear it — but you've never heard it like this.
Sambora will perform the Call to the Post live on Saturday, Nov. 2.
audio https://media.radaronline.com/brand-img/wp-content/0x0/2013/11/breeders-cup-richie-version-2.mp3
Article continues below advertisement
RadarOnline.com exclusively broke the news that Sambora would be performing the famous call, which is a MAJOR deviation from thoroughbred tradition: The Call to the Post has almost always been performed on a bugle to signal that all mounts should be at the paddock exit in order to proceed to the track to begin the post parade.
The Breeder's Cup World Championships is held November 1-2, comprising of 15 races with more than $25 million in prize money.