Exclusive
Let It Rock: Bon Jovi Guitairst Richie Sambora To Peform The World Famous 'Call To The Post' At Breeder's Cup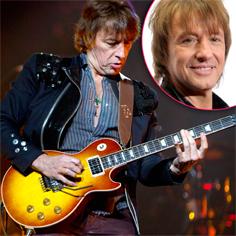 He might no longer be on tour with Bon Jovi, but Richie Sambora is still breaking Rock 'n' Roll's glass ceiling -- because as RadarOnline.com has exclusively learned, the rocker will perform the world famous "Call to the Post" at this weekend's Breeder's Cup at Santa Anita Park in Arcadia, Calif.
It's a MAJOR deviation from thoroughbred tradition: The Call to the Post has almost always been performed on a bugle to signal that all mounts should be at the paddock exit in order to proceed to the track to begin the post parade.
Article continues below advertisement
Sambora has been keeping busy, despite the band's drama: He sang "Lean On Me" for Al Gore's 24 Hours of Reality: The Cost of Carbon, a day-long livestream multimedia show that took viewers around the world for an eye-opening glimpse at how carbon pollution is damaging our globe.