Richie Sambora Slams Jon Bon Jovi For Hinting He's Back On Drugs & Alcohol: 'Stop The Trash Talking!'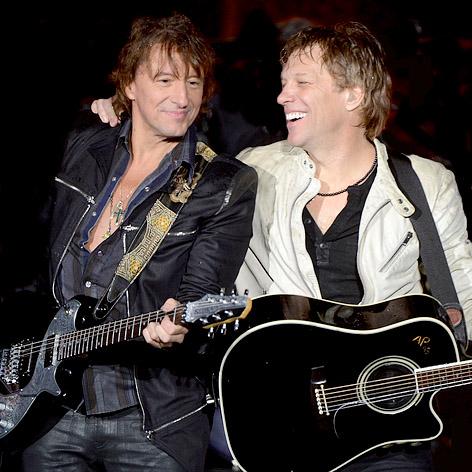 The Bon Jovi brawl continues!
After Jon Bon Jovi hinted in an interview that member Richie Sambora recently left the famous rock band because he was back on drugs and alcohol, the guitarist is unleashing his fury and denying all the allegations – and RadarOnline.com has the details.
"It's getting more and more difficult every day to not just sit here and say something... Because all I can say is this — it's for personal reasons," Jon explained to the Standard about Sambora's reason for leaving the band.
Article continues below advertisement
"He's been through it before, fortunately for us the same guy who filled in last time was available this time."
But Sambora claims he's perfectly fine!
"I don't have any major problems in life right now," Sambora, who checked into rehab in 2011 for alcohol abuse, spat in an exclusive interview with The Daily Mail.
"I love my fans and I feel bad for them at the moment. Bottom line."
Jon also snubbed Sambora in his interview by implying that he was easily replaceable, unlike U2's The Edge.
"My opinion is Jon wants to see if he can pull off stadiums by himself. He is making it very difficult for me to comeback," Sambora continued about his take on the real reason he isn't in the band anymore.
"Enough with the trash talking!"
Whose side are you on: Jon Bon Jovi's or Richie Sambora's? Sound off below…