Exclusive
One Day You're In, The Next You're Out: 'RHOBH' Cast Shake-Up As Producers Look To Axe Newcomer Carlton Gebbia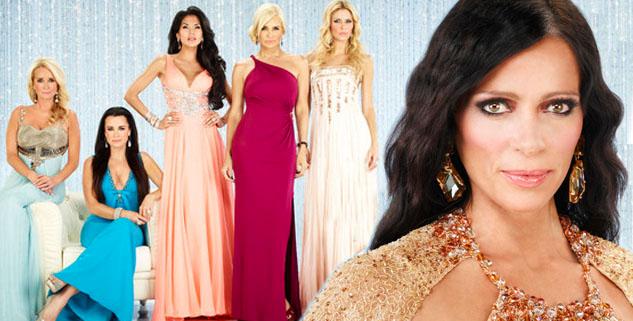 Producers of the Real Housewives of Beverly Hills are indeed cleaning house in the 90210, and plan on firing newcomer Carlton Gebbia because viewers find her extremely annoying and fake, RadarOnline.com is exclusively reporting.
Carlton just "hasn't struck a chord with fans of the show this year. Producers are planning on firing her after this season...they are planning on revamping the entire cast like they did with the New York franchise of the Bravo show," an insider told RadarOnline.com.
Article continues below advertisement
"With ratings down, it's absolutely essential that the show get back to it's original theme. Over-the-top lifestyles, parties and an influx of celebrities would also be good. Carlton's witch storyline is just creepy and weird. Viewers have sounded off on social media against Carlton, with some saying they are just grossed out by her sex room and lingerie. It's just so forced."
RadarOnline.com broke the story: Producers will fire Kim Richards after this season, and possibly her sister, Kyle.
"The network is not entirely happy with the ratings for the current season of Beverly Hills and sadly, despite being Paris Hilton's aunt, she has little going on in her life," a source previously told RadarOnline.com.
"Viewers don't care about watching Kim's dog getting training. It's boring!"
But any decision could ignite a stand-off with Kim's fiercely protective sister Kyle, who has threatened to quit the franchise in protest if she's fired.
Article continues below advertisement
"As you can imagine, Kyle is very unhappy about Bravo's plans," a source revealed. "She has made no secret of that fact that she'll threaten to quit if her sister is fired."
Though the cast may have the biggest homes, largest bank balances and most plastic bodies, the once-mighty franchise had dropped as much as 13.16 percent in total viewership season-on-season, via BravoRatings.com.
Those numbers have picked up throughout the season, however.
Ratings for 90210 finally reached two million as Brandi Glanville and costar Joyce Giraud sparred on camera.
Fans of the show want to see more of "Lisa Vanderpump, Yolanda Foster, Brandi and Joyce," the source added.
"Producers could ask those ladies for recommendations on potential housewives. The cast is just fighting over ridiculous nonsense, and it doesn't make any sense. There is a lot of pressure to make sure the next cast members are a hit with the audience."