Exclusive
Octo-Mom Returns 'Stolen ' $7.5K Diamond Ring Just One Month Before Being Slapped With 3 Felony Charges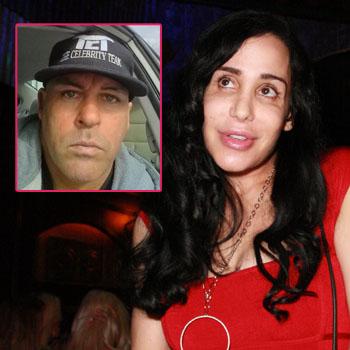 Nadya "Octo-Mom" Suleman was accused of stealing a $7,500 diamond ring from promoter Damon Feldman and after he won a civil suit in Jan. 2013 she was ordered to return the ring — which RadarOnline.com has exclusively learned she just did last month, a year after the suit was settled.
"She sent me the ring back last month," Feldman told RadarOnline.com in an exclusive interview.
"Obviously it wasn't hers and she owed it to me or I was going to press criminal action. I'm happy she returned it and now I can move on to bigger and better things. I'm just very upset it took her over a year to do this and I will never do another stunt like that again."
Article continues below advertisement
EXCLUSIVE DOCUMENTS: See The Police Report Filed Against Octo-Mom For $7,500 Diamond Ring
Feldman is referring to a Celebrity Boxing event in which a publicity stunt was allegedly hatched with Suleman and her manager at the time, Gina Rodriguez.
"I was told I would be paid for my participation and I would provide the ring for use for the Publicity Stunt and would get the ring back within 3 weeks due for Media reasons," he said last January. "The ring was never returned."
Article continues below advertisement
An investigation by the Los Angeles County Department of Welfare Fraud Prevention and Investigation (WFP&I) exposed financial records in which Suleman was shown to have earned much more than legally allowed for her to also be collecting welfare.
Suleman is capped at pocketing $119,000 in a calendar year, but financial records showed she took home $150,248.77 in 2012.
According to the Los Angeles County District Attorney's Office, Suleman failed to report nearly $30,000 in earnings while raking in the public assistance in 2013.
"I think she should get her act together and stop doing shady things," Feldman added.