Exclusive
Octo-Mom Slapped With Felony Welfare Fraud Charges After Radar Revealed Government Probe Into Her Earnings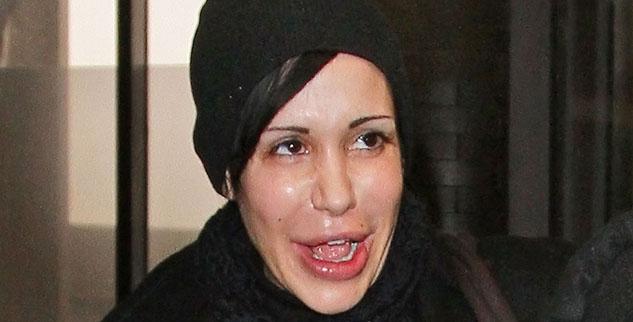 Nadya "Octo-Mom" Suleman was charged with three felony counts of welfare fraud on Jan. 6 and faces nearly six years in prison if convicted, RadarOnline.com is reporting.
The charges come on the heels of RadarOnline.com's exclusive report revealing financial records in which the single mother-of-14 was shown to have earned much more than legally allowed for her to also be collecting welfare.
Suleman is capped at pocketing $119,000 in a calendar year, but financial records showed she took home $150,248.77 in 2012.
Article continues below advertisement
According to the Los Angeles County District Attorney's Office, Suleman failed to report nearly $30,000 in earnings while raking in the public assistance in 2013.
The D.A. charged Octo-Mom with two counts of perjury by false application and one count of aid by misrepresentation, which could land her in the slammer for a maximum of five years and eight months if convicted.
As RadarOnline.com exclusively reported last year, an investigation by the Los Angeles County Department of Welfare Fraud Prevention and Investigation (WFP&I) exposed how Octo-Mom made $33,256.77 from her "self-pleasure" film.
The 37-year-old also received $58,680.00 from an Encino, Calif.-based organization called DD Entertainment LLC, while another firm forked over $57,499.00 for her services, according to 1099 documents provided to WFP&I and seen exclusively by RadarOnline.com.
This income was for Octo-Mom's appearance on HD Net's Celebridate, various image deals, interviews sold to media around the world, commercial appearances — and her appearance at a strip club in Florida, investigators uncovered.
A third organization, Cast & Crew Talent Services from Burbank, Calif. paid Octo-Mom a total of $813 to appear on the CW program H8R.
Suleman has not yet been arrested but is ordered to appear in court on Friday.