Exclusive
Octo-Mom Slammed With Civil Suit For $7,500 Diamond Ring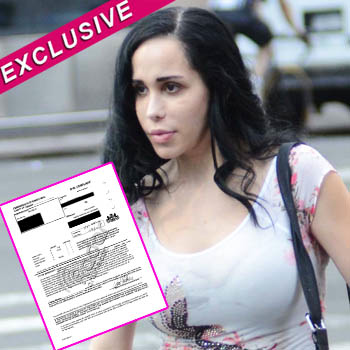 Article continues below advertisement
EXCLUSIVE DOCUMENTS: Civil Suit Filed Against Octo-Mom: See It Here
"I have filed a civil suit to get my ring," Damon told RadarOnline.com after filing the complaint on Wednesday.
"I am in total shock that she has not returned this to me. This whole ordeal was planned by her and her manager and I went along with it because I was guaranteed to get money."
Also named on the lawsuit is Nadya's manager, former porn star Gina Rodriguez, and her management company GR Media.
"Now I have to go to court to get my $7,500 ring back that was stolen," Damon said.
"I am very disgusted. I went with this whole plan and I have always helped her. She made thousands of dollars in celebrity boxing. This is so ridiculous that she would do this to me, so she will pay. I am going to the extreme to get this back."
As RadarOnline.com exclusively reported last week, Damon originally filed an incident report with the Marple Township Police Department in Pennsylvania in an effort to get the ring back, but was told he would have to pursue a civil suit.
Article continues below advertisement
"Feldman was informed by police and he understood that this is a civil matter, not a criminal investigation by Marple Police," Detective Michael Sharkey wrote in the document.
"Marple Police will not be contacting Suleman or her manager. Feldman and his attorney intend to file a civil suit for the actual return of the ring or the estimated $7,500 cost of the ring."
RELATED STORIES:
Octo-Mom Has Police Report Filed Against Her For Allegedly Stealing $7K Diamond Ring