She Can't Stop! Miley Cyrus Spotted Drag Racing Smart Car In L.A.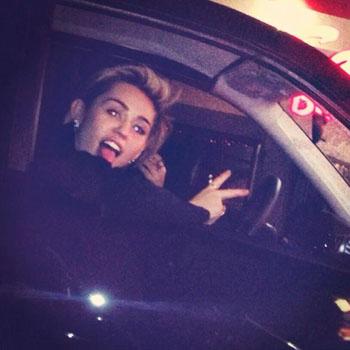 Miley Cyrus has been living life in the fast lane for the past few months, and she isn't slowing down any time soon! The "We Can't Stop" singer was spotted taking her song title literally, drag racing her smart car in Los Angeles, according to NYC entrepreneur Travis Kipp.
Kipp, who owns boutique modeling agency Fusion Models, posted a photo of Cyrus behind the wheel to his Facebook page on January 3 and captioned the shot, "Miley tried to race us down Sunset Boulevard in a smart car. Needless to say we won."
Article continues below advertisement
Both Kipp and Cyrus were reportedly en route to Hollywood nightspot Warwick, where Cyrus was spotted dancing and taking selfies throughout the night as she partied with her pal, "We Can't Stop" director Diane Marteloff.
"Everyone knew who she was and kept staring at her, but no one bothered her which was really nice," an eyewitness told E! Online. "She was really casual and just had a great time."
Cyrus' allegedly high-speed outing came just over one month after actor Paul Walker died in a fiery car wreck after his driver, Roger Rodas, lost control of the vehicle at more than 100 mph.
Cyrus tweeted, "im really sad about Paul Walker :(" at the time.
If Cyrus was actually driving a Smart Car, the top speed on those is limited to roughly 87 mph.