She's Been Naughty This Year! Miley Cyrus' Seasonal Sleaze Continues In Tampa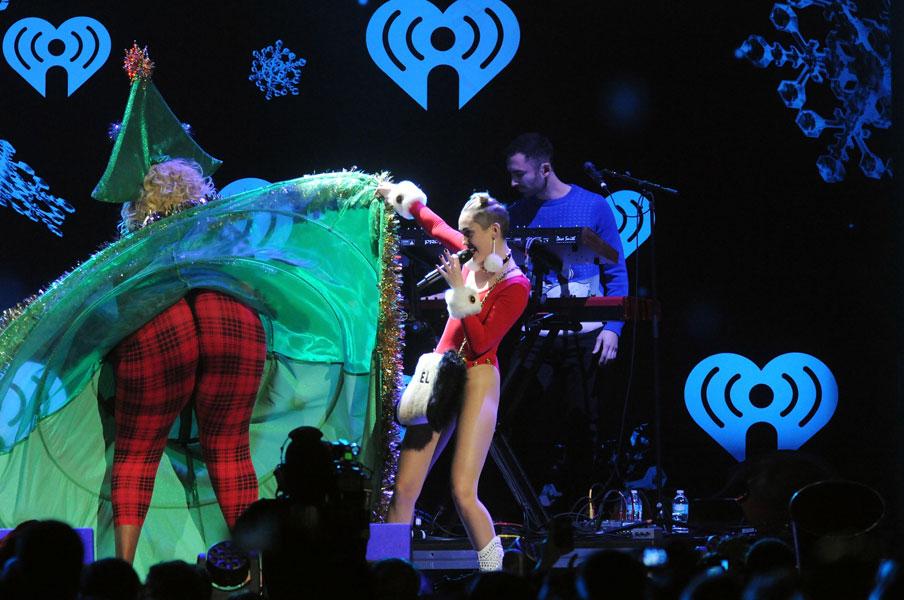 Miley Cyrus continues to outdo herself, combining Christmas and sex while headlining the Jingle Ball tour Wednesday in Tampa, and we've got the shots for you right here on RadarOnline.com.
The 21-year-old, who's twerked, stripped and smoked throughout 2013 in distancing herself from her innocent, Hannah Montana beginnings, unfurled more sexy antics in the show as she spanked dancers dressed up as Christmas trees and reindeers, while performing tracks from her new album, Bangerz.
Article continues below advertisement
In a new outtake from her interview with Barbara Walters, Miley explains the surprise reason behind her trademark tongue gesture.
"I'm so embarrassed, because people are taking pictures of me, and I just don't know how to … I don't know how to smile, and just be awkward, so I stick my tongue out, because I don't know what else to do," she said.
The ensemble show, for 93.3 FLZ also featured the man who helped Miley's ride to superstardom -- her VMA's twerking partner Robin Thicke -- as well as up-and-comer Ariana Grande and talented hip-hop artist Flo Rida.