Bobble Butt! Miley Cyrus' VMA Performance Immortalized With Twerking Action Figure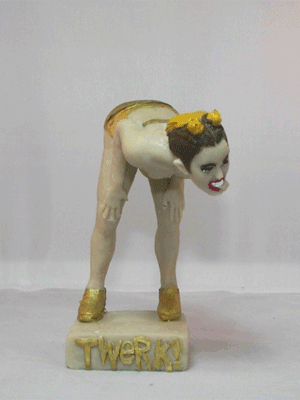 You've heard of bobble head figurines. Now, meet the bobble butt. Customized figurine company Herobuilders.com has immortalized Miley Cyrus' VMA twerking extravaganza in a new limited-edition figurine with a moveable booty.
"We've been working on it for about two weeks," the company's founder, Emil Vicale, tells RadarOnline.com exclusively of the $29.95 doll. "We had to tune it up a few times until I felt really good about it. The mechanics had to work just right."
Article continues below advertisement
Surprisingly, the Cyrus figurine was not the first with a mobile lower half to come out of the company: Vicale says they once made a similar figure for an animation studio years ago.
But the Cyrus figure, he says, certainly took a lot of work.
"The sculptor was having trouble getting it," he reveals. "I'm sure he had to watch the performance a couple times. Luckily, I really didn't have to watch it!"
Now completed, the "Bangerz" booty shaker stands about 5 inches tall. If she were standing straight up, she'd be a 7-inch figurine!" Vicale laughs.
"We're going to make 5,000 units and then that's it," he says. "And then she'll be retired."
And with the way sales are going, they could hit that number sooner rather than later.
"We're getting orders like crazy," he explains. "I haven't even had a chance to count how many! We're just trying to stay on top of it."