Twerking, Smoking & Mollys: Miley Cyrus Says It's All A Hoax!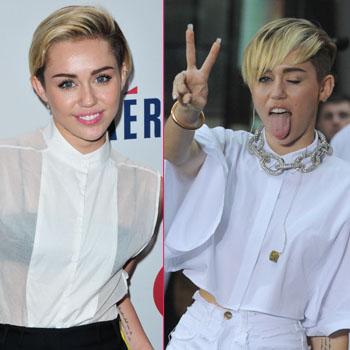 Miley Cyrus has let the public in on a little secret: Her saucy new image? It's all an act!
The 21-year-old, speaking with the New York Times, said her adult antics over the latter half of 2013 -- most famously, her racy onstage dance with Robin Thicke at the MTV VMAs -- have been the work of a character she's playing, not her real self.
"I went from people just thinking I was, like, a baby to people thinking I'm this, like, sex freak that really just pops molly and does lines all day. It's like, 'Has anyone ever heard of rock 'n' roll?" the Bangerz beauty asked. "There's a sex scene in pretty much every single movie, and they go, 'Well, that's a character.'
Article continues below advertisement
"Well, that's a character! I don't really dress as a teddy bear and, like, twerk on Robin Thicke, you know?"
The "We Can't Stop" singer said she's been holding back said character for a while, as she was so closely associated with the Disney brand for years.
"Things came out that happened -- like, you know, bong videos -- when I was on Disney. But I never wanted to do that to Disney. When I was no longer employed by anyone, that's when I was like, 'OK, I'm going to do my own thing.' But I waited until I felt like I had respectfully finished out what I was supposed to do, you know?"
And while we're on the topic of adult antics and former Disney kids, Miley used the interview to respond to Joe Jonas' recent statement that she and Demi Lovato corrupted him, to an extent, by turning him on to marijuana.
"If you want to smoke weed, you're going to smoke weed," she said. "There's nothing that two little girls are going to get you to do that you don't want to do. I thought maybe he was saying that like it was going to make him look badass. We were so young that it's actually like, 'How did you get peer pressured by me?'"