Exclusive
The Secret Pain Behind Leo's Award Season Glory: DiCaprio's 6-Year-Old Niece Is Declared ABDUCTED By Department of Justice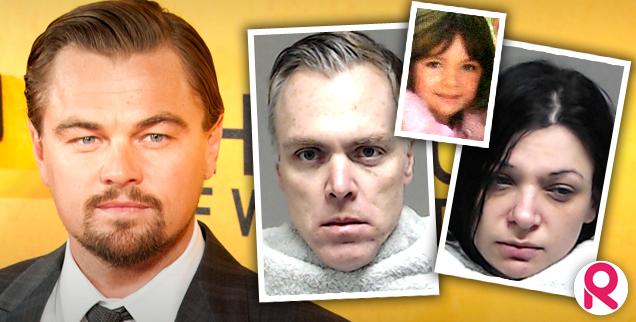 Worried family members and friends are searching for the six-year-old niece of Hollywood megastar Leonardo DiCaprio, whose whereabouts have been declared unknown, RadarOnline.com has exclusively learned.
Normadie Farrar, the daughter of DiCaprio's jailed step-brother Adam Farrar, was last seen on July 25, last year, according to law enforcement authorities in California.
She is the subject of "parental/family abduction," according to the Missing and Unidentified Persons Unit of the California Department of Justice.
Article continues below advertisement
But as RadarOnline.com has reported, despite the declaration, the tiny tot has been covertly living in Dallas, Tex., at least until her dad and mom were arrested last week in separate drug-related incidents.
Farrar, 43, was detained by police in Collin County on two Class A Misdemeanors last Friday for possession of a dangerous drug, theft and a further charge of harassment.
Normadie's mother, 38-year-old Charity Moore, was arrested five days earlier and slugged with a slew of offenses, including three counts of possession of a controlled substance, two counts of possession of a dangerous drug, theft of property under $500 and a Class C Misdemeanor of a parent contributing to the child's nonattendance at school.
One family friend told RadarOnline.com: "Adam and Charity have been hiding with Normadie in Texas, desperately avoiding the Department of Justice.
"It's now very worrying. With both of them locked up in jail, no-one in the DiCaprio family is sure where Normadie is, at this time. They didn't even know that Adam and Charity had been arrested."
Said another source: "Leo's mom has been at war with Adam and Charity for sometime. She is worried about her granddaughter and her well-being."
Article continues below advertisement
Late on Tuesday night, Moore's father, Don, insisted to RadarOnline.com that Normadie's well-being was fine.
"This is all so bizarre. If it was anybody's business what's going on, we would tell it. I can tell you that Normadie's safe and that's all I'm going to tell you," he said, in an exclusive interview.
"She's a beautiful child and she's not 'missing.' She was with her mother and where she is now is nobody's business."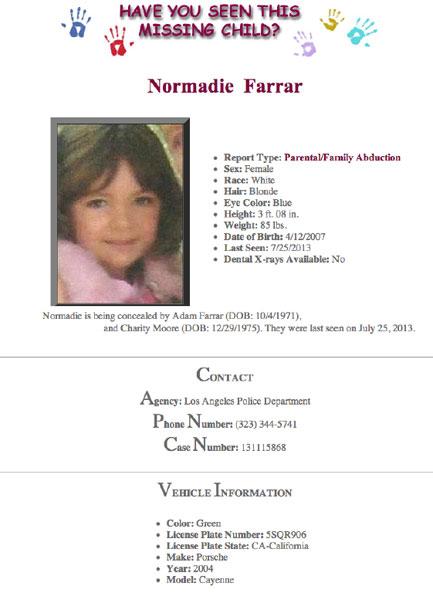 Don Moore added that he had not talked to his daughter for months, but would not elaborate on her most recent run-in with the law.
He said: "The last time I talked to her, I just told her she needs to straighten up and do the right thing and that's probably the reason she doesn't call me."
As RadarOnline.com previously reported, Normadie's dad Farrah, a former child actor, has been in various courts in recent years on charges of harassment, possession of a controlled substance, driving without a license and domestic violence.
Farrar, who appeared in TV series Galactica 1980, and his step-brother DiCaprio, 39, were once considered best friends and were often spotted attending Los Angeles Lakers basketball games together, as well as hitting the Hollywood party scene.
But they have "had zero contact in recent years and do not get along," the result of what one source said was as a "very bitter family feud."