Here Comes The Groomzilla! Kim K. Says Kanye Is 'Really Passionate' About Their Wedding Planning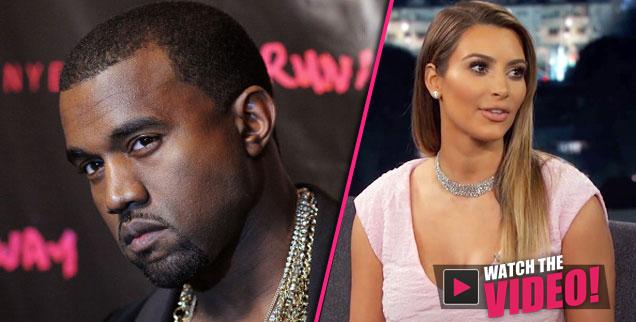 Normally, it's the bride who takes the reins in wedding planning, but that's not the case when it comes to Kim Kardashian and Kanye West.
Kardashian told Jimmy Kimmy on Thursday that her fiancé is very much into planning their wedding.
"I know they think or they say the guy usually doesn't care and just shows up," she said. "Kanye really cares and he's really passionate about it so that makes my job so much easier."
Article continues below advertisement
While Kardashian is the bride, she is still fine with the fact that West is so "passionate."
"It makes my job really easy, but I love it because he knows what he wants and I love that about him," she added.
And she does have some responsibilities.
"We're kind of taking different roles like he'll take care of the music; I'll take care of the seating chart," she said. "Different stuff like that. So we're making it really easy on each other."
Kardashian continued on to say that despite what has been reported over the past week, she and West are not getting married at Versailles and that they were just acting like tourists when then visited the palace last weekend.
youtube=https://www.youtube.com/watch?v=4ovpc5B1mvA&w=560&h=315
"We took a private tour," she said. "Him and I have never been there so we just wanted a tour and of course everyone thought we were picking that as our wedding place and all of that."
"No, we were just taking a tour," Kardashian explained. "But we will be getting married this summer hopefully in Paris. We love it there."
Kardashian and West love Paris.
"It's like our second home and we spend so much time there," she said. "We have an apartment there, so we really love it."
Kardashian also confirmed that she'll be taking West's last name when they wed.
"I'll be Kim Kardashian… move that to my middle name… West," she said.