Katie Holmes Calls A Truce, Wants To Film 'Dawson's Creek' Reunion With Michelle Williams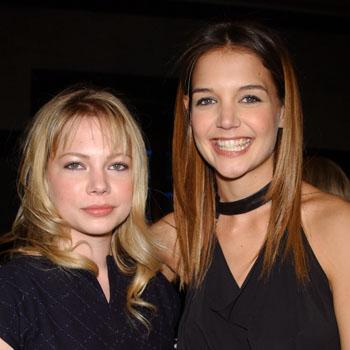 Katie Holmes really wants to return to her roots and is hoping to convince her friends from the past to join her. The former Mrs. Tom Cruise is interested in a Dawson's Creek reunion special — and an insider told OK! Magazine exclusively that she has even asked her former co-star, Michelle Williams, to participate.
While her husband reportedly did not her to participate in a reunion film, and Katie and Michelle did not get along well while the teen drama was on the air between 1998 and 2003, Katie hopes they can forget the past.
Article continues below advertisement
"She wants to make amends with Michelle," the insider said, "even though it's arguable that Michelle was the main aggressor on the Dawson's Creek set. Katie's over all that now and she's much more confident and stronger as a person and will let bygones be bygones."
The real push for a reunion comes from Joshua Jackson, 35, who is hopeful that if Katie and Michelle agree to the show, fellow star James Van Der Beek "will have no choice but to follow."
For more exclusive details about the possible Dawson's Creek reunion pick up the latest issue of OK! Magazine on newsstands Friday.