The Stepford Twins? With Mom Kate Hovering Behind Them, Mady & Cara Gosselin Smile For The Cameras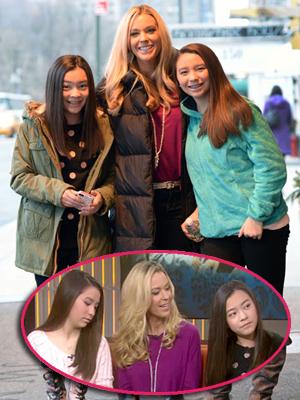 Hours after their cringeworthy TODAY show appearance made for one of the day's biggest stories, Mady and Cara were all smiles for the paparazzi in Manhattan with their mother Kate Gosselin hovering behind them.
As we previously reported, the 13-year-old twins were clearly reluctant to speak on the national TV appearance, which rankled their mother Kate, who "kept asking what happened and she simply shrugged her shoulders" after the televised train wreck, a source told us.
Article continues below advertisement
"This seemed to make Kate even angrier," the insider said, "and she rolled her eyes to onlookers nearby."
The girls' father, Jon, has been outspoken as of late about Kate's controlling nature, as he said this week that under her "militant" house rules, the children "can't breathe the wrong way without upsetting her."
At one point during Thursday's appearance, host Savannah Guthrie grilled Kate for pushing the tentative teens into the limelight, asking if it helps or hurts, though Kate said it wasn't her call to make.
"Any TV things that we do, I can't get them to do at this age, 13, anything that they don't want to do, as with any parent -- it's not like I forced them to do it."
Readers, what do you think: Is Kate making the girls' dreams come true with the gift of fame? Or, is she using them for a last ditch grasp at relevancy? Or somewhere in between? You tell us!