Real Housewife Joyce Giraud: 'I'm Not Anorexic… But I'm A Size 2!'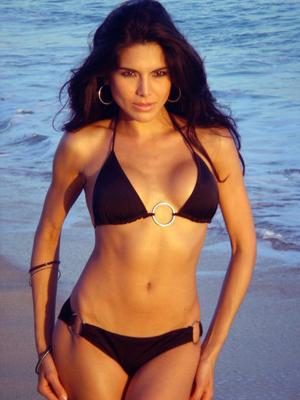 Pin-thin beauty Joyce Giraud is coming forward to set the record straight about her weight – slamming the rumors that she's battling an eating disorder.
The Real Housewives of Beverly Hills star, who was accused of making a throw-away comment about being thin on the show, hit back at her weight conscious co-stars.
"In the entirety of my life, I have never had an eating disorder. It's disrespectful of Brandi Glanville to accuse me of such an ugly disease," she told the latest issue of Star magazine.
Article continues below advertisement
"Anorexia and bulimia are serious problems and for her to just throw that around so easily is hurtful," Giraud said, adding that her body type should be reason to bond — not battle -- with Glanville.
"The thing is, Brandi is extremely skinny – for her height, she is skinnier than me! She should know what it's like to have a fast metabolism. I don't know why she targets me."
"I'm a size two – I'm not even a size zero."
Giraud -- whose Housewives tagline declares, "In Beverly Hills, they say you can never be too young, too thin, or too rich" -- admitted she has always been skinny.
"After I won Miss Puerto Rico, I was told that I needed to beef up. They made me drink Ensure to gain weight," she said, adding that she "eats chocolate all day."
"Even Brandi herself has even made comments on how much I eat! … I do realize how blessed I am to be able to eat what I want and not have to live in the gym," she added.
For more on Giraud's weight war and the assets she'd like to enhance, pick up the latest issue of Star Magazine, on newsstands now.