Exclusive
Joyce Giraud Hits Back At Brandi Glanville's Attacks, Says 'I Was Just Defending Myself'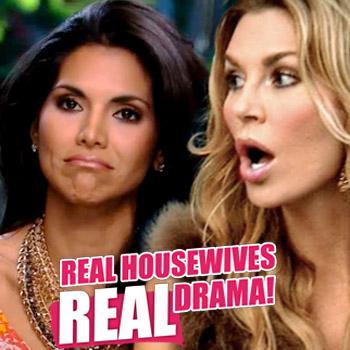 Article continues below advertisement
"Brandi started attacking me. She was saying that I was using her for a story line but I have a life. I have a job. I have a lot going on that people would be very interested in. So I was just defending myself," she told RadarOnline.com.
The actress, who starred on NBC's show Sibera, told RadarOnline.com that she believes she definitely made mistakes in the beginning of the tiff.
"I think Brandi thought in the beginning that since I let her get away with what she said that she probably thought was just a dumb beauty queen or a wallflower. It took me a long time to throw labels!"
Joyce says she was a fan of the show and "I really thought I would like Brandi. But she is doing to me exactly what she said happened to her. She is playing the victim. She called Kim and Kyle Richards bullies. It is a double standard.
"She always got away with treating people badly. It isn't 'telling it like it is' it is she 'attacks like it is.'"
Are you Team Joyce or Team Brandi? Tell us in comments below.